Pets sometimes don't care about the rules we try to impose on them simply because they have their own. As these pictures show.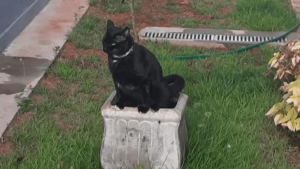 A pet, no matter how obedient, can sometimes fall in line and decide to do as it pleases. We then find him in upside-down situations that give us the giggles. This is what many dog ​​and cat owners observe from time to time.
Here are 13 photos of dogs and cats that are revolting.
1. This feline yells at anyone who wants to clean up his mess.
2. He spends hours looking at himself in the mirror while sitting at the bottom of the sink
3. He has held the stuffed animal hostage for hours, but no one knows his demands
4. This cat thinks that crushing fruit in their basket is more interesting than sitting in their own basket.
5. This dog stubbornly refuses to admit that he is stuck and needs help.
6. The art of devouring a birthday cake that wasn't even for yourself
7. These dogs are obviously very happy with their game and invite their owner to join them
8. He banished himself to the top of the refrigerator and stared into space for no one knows why.
9. This is a funny sitting position for a cat
10. This dog is waiting for his reward to devour the door.
11. His owners don't always understand what he's doing.
12. A cat pondering meaning while sitting on a stone plinth

13. Sleep took him as he caught his toy.

By alexander god
Chief editor
Educated Masters in Writing, Alexandre has been a dog lover since a very young age. Having grown up with many dogs, this adorer of Beaucerons reveals to you every day the news that will move you and inform you about our favorite companions.