These furballs have a special perception of spherical objects. As these photos show.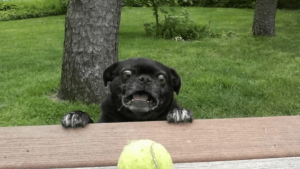 Our pets do not always react like us to the sight of certain relatively simple objects. For example, humans do not express a particular emotion at the sight of a rounded object, while cats and dogs see different reasons for getting carried away.
Here are 14 photos of pets and their experiences with the balls.
1. The energy ball that glows in the dark does not scare him at all
2. This cat is trying to decipher the secret messages emitted by his crystal ball
3. Before this cat accepts this ball, he must first inspect it from every angle
4. The planets have entered into communion with this cat
5. This cat has doubts about the authenticity of this magic ball
6. This dog thinks all spheres are magic and they're after him.
7. This is what you see on the other side of the ball when an overly curious dog points the tip of its nose
8. A feline unleashing the forces of the universe
9. This cat can't awaken the magic powers of this strange ball
10. We won't be able to convince this dog that this ball has any supernatural power.
11. A funny ball like this surely wasn't put there to play
12. This cat is saddened to see that its ball does not emit any light.
13. Despite its many facets, this ball doesn't seem to interest the cat much.
14. Here is the god of cats who communicates with his followers through a ball

By alexander god
Chief Editor
A graduate of a Master in Writing, Alexandre has been a dog lover since a very young age. After growing up with many dogs, this adorer of the Beaucerons unearths you every day the news that will move you and inform you about our favorite companions.