The attitude of pets when they are adopted is often moving. As you can see in these photos.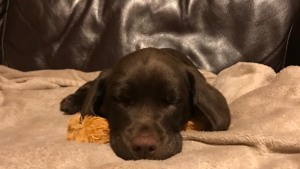 When you adopt a dog or a cat, the first hours do not pass without emotion. Indeed, for the animal, it is an important change in its life. These creatures deliver their fate to strangers and must trust them.
All of this makes a newly adopted pet's first night a big one.
Here are 15 photos of cats and dogs on their first night in their new home.
1. For his first night with his new family, this cat was allowed to sleep on his owners' bed
2. This puppy also enjoyed his first night of sleep with his owner
3. His expression conveys his great joy at having been adopted by people who inspire him with confidence
4. The first evening in front of the TV is spent in the most total relaxation
5. This adorable dog thought the guitar case was his bed and slept there.
6. Just arrived home after a long drive, this puppy immediately dozed off on the couch.
7. An adorable dog who sleeps peacefully knowing that the family who adopted him will make him very happy.
8. Unable to sleep, this kitten watched an animated movie that amused him
9. A very cozy first night of sleep in the arms of its new owner
10. This dog understood that the painting was an indication as to the location of his bed
11. This adorable newly adopted cat seems to be sleeping the sweetest of sleeps.
12. It was love at first sight and the kitten fell in love with his new owner.
13. His new family can't wait for him to wake up to play with him.
14. The eldest immediately took the newcomer to the family under his wing.
15. A senior dog who found the perfect family for his specific needs.

By Alexander God
Chief Editor
A graduate of a Master in Writing, Alexandre has been a dog lover since a very young age. After growing up with many dogs, this adorer of the Beaucerons unearths you every day the news that will move you and inform you about our favorite companions.