Dogs sometimes mistake themselves for cats and do everything to become one. As these pictures prove.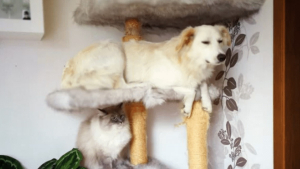 It happens that coexistence between a cat and a dog does not go very well if one cannot tolerate the other. It also happens that the dog accepts the cat so much that it wants to become like him. This is the case with these dogs, who have started behaving exactly like cats do.
Here are 18 pictures of dogs who think they are cats.
1. A dog who thinks that by sitting this way, he will be considered a cat
2. Each dog in its place on the back of the sofa
3. A dog that howls like a wolf but sits on the fence like a cat
4. Cardboard boxes are the proof that it is a cat
5. It is well known that only cats land on the kitchen table, so it is a feline animal
6. More than one dog has passed the cardboard box test
7. High and narrow surfaces are reserved for cats
8. Like desks and dining tables that cats pass and lie on
9. Your family will quickly realize that they have 3 cats living with them and not 2 canines and a cat.
10. There is only one cat to inhabit a cat tree.
11. Many, many families testify to the transformation of their dogs into cats as they grow, requiring a larger cat tree that can accommodate all the felines in the house.
12. A cat in training, watching the fish in the water
13. Despite all the differences that exist between felines and him, this dog is convinced that it is a cat
14. By combining 2 common cat exercises, sitting on the back of the sofa and looking out the window, this dog became one.
15. He hopes that when he wakes up from his nap, he will have become a cat like them.
16. Such agility is only seen in cats
17. A dog that climbs trees like a cat
18. Cats observe the intruder who wants to be accepted

By Alexander God
Chief editor
Educated Masters in Writing, Alexandre has been a dog lover since a very young age. Having grown up with many dogs, this adorer of Beaucerons reveals to you every day the news that will move you and inform you about our favorite companions.