Volunteer foster mother for an animal protection association located in Orlando (Florida, United States), Alyssa DeHart took in a stray kitten in bad shape, which she covered with love. At the same time, another little feline entered his life!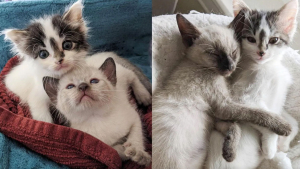 Moo Moo wandered alone in a garden, before it was handed over to the caring hands of the volunteers of Pet Alliance of Greater Orlando. The poor kitten suffered from dehydration and sported dirt-filled fur. Due to his miserable condition, his benefactors had to give him several baths.
At just 4 weeks old, the puny creature needed a family. That's whenAlyssa DeHart came into play. The volunteer foster mother entrusted our colleagues with lovemeow to have felt a thunderbolt at the shelter, when she encountered the hairball. " He got on his back and lifted his paws in my direction […]. Love at first sight! ", she said.
© Alyssa DeHart
When leaving, with her new protege in her arms, the volunteer noticed another kitten of the same age. The latter had just arrived. The animal lover immediately offered to take him in and named him boo boo.
© Alyssa DeHart
best friends for life
Within this warm house, Moo Moo was pampered, fed and cared for properly. Thin and frail when he was discovered, he gradually regained weight and strength.
As he recovered, the young feline began to let his true personality shine through. Outgoing and energetic, Moo Moo was the complete opposite of boo boo.
© Alyssa DeHart
The latter was more fearful and reserved than his congener, whom he began to follow everywhere. Sessions of games, teasing and naps together punctuated their daily lives.
The 2 survivors quickly became inseparable, so that we could easily consider them as brothers.
© Alyssa DeHart
Over time, boo boo managed to overcome his shyness and trust humans. His best friend helped him come out of his shell and grow.
Very attached to her 2 charming proteges, Alyssa DeHart gave them the most beautiful gift: she adopted them! Thus, cats live and grow up in a loving home.
In addition to having a great "mom", they share their life with Clara, a cat with a big heart. All this beautiful little world gets along wonderfully, what happiness!
© Alyssa DeHart

By Josephine Voisart
Web editor
Trained in literature, Joséphine is above all the happy owner of Anthea, a European cat, and Violette, her dog. Passionate about animals, reading and writing, she uses her sharp pen in the service of animals and all those who love them on Pets-Dating.com