Dogs don't hesitate to take their naps as and when they want. As these photos show.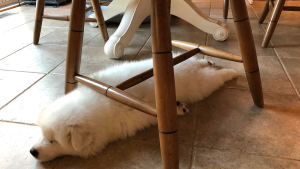 Sleep is usually done under relatively comfortable and favorable conditions, because the goal is to rest. For some dogs the idea is a little different and although they are obviously looking for rest, said comfortable and favorable conditions mean little to them.
Here are 20 photos of dogs who have decided to take a nap at all costs and regardless of the environment around them.
1. The corner of the stairs is an unexpected place to take a nap
2. His owner serves as a bed for his impromptu nap in the park
3. This dog knows how to look like he's performing extraordinary physical feats without putting in the effort.
4. Acrobatics has been in its genes since its birth
5. Appearance matters little while sleep matters a lot
6. This dog proves that sleeping upside down on the stairs is totally possible.
7. Plumbing isn't his forte, but sleeping is.
8. This pup is still in the phase of trying out different corners of the house to see what works best for him.
9. It's hard to find a more complicated sleeping posture than this.
10. When sleep occurs in the middle of a meal, this is the result
11. This adorable dog curls up on himself to start his umpteenth nap
12. His owners got used to seeing him fall asleep while dragging himself on the ground.
13. As for this dog, his owners got used to seeing him sleep standing up.
14. This dog's sleeping posture still remains unexplained.
15. This little dog fell asleep in the middle of a play session.
16. The best way to cover territory is to split between 2 couches.
17. A tiny ball of hair that just fell asleep on its owner's legs.
18. Stretching often makes you sleepy, indeed.
19. In the middle of an attack on the chair, this dog fell asleep
20. The same situation was experienced by his friend who attacked a steering wheel

By Alexander God
Chief Editor
A graduate of a Master in Writing, Alexandre has been a dog lover since a very young age. After growing up with many dogs, this adorer of the Beaucerons unearths you every day the news that will move you and inform you about our favorite companions.