Our pets are hilarious when caught in the act. As these photos show.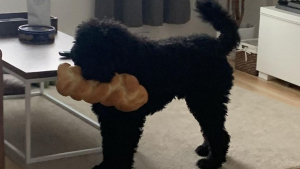 Dogs and cats are fans of nonsense of all kinds. Indeed, as soon as their owners have their backs turned, they execute the first twisted idea that comes to mind. When their masters discover them in action, their reaction is enough to make us laugh.
Here are 20 hilarious photos of animals getting their paws caught!
1. A cat's paw that looks like it was soaked in tomato sauce that wasn't just for her
2. The cat did not agree with this new decoration and therefore began its sabotage operation
3. Such a big loaf in the mouth of a black furball walking around the living room, it couldn't go unnoticed
4. Toilet paper rolls are no longer in rolls but in shreds
5. This cat is starting to think he shouldn't have played with this plastic bag.
6. This dog knows very well that his pillow was not supposed to be emptied of its contents.
7. His owner's socks had no place on the roof of the house, which didn't stop him from putting them there
8. A cat who realizes that knocking down the Christmas tree was not part of his preparation.
9. Eating off the coffee table was actually on the no-go list.
10. Slippers have become something else, something indefinite
11. This Labrador Retriever thought he was helping his owners put the groceries away.
12. At the vet, this dog helps himself on the shelves
13. Here's a dog that looks particularly pleased with his pillow sabotage accomplishments and actions.
14. Another pasta dish that was devoured by a furball who was getting tired of eating only kibble
15. His owners know very well what this look means, but they don't yet know what the stupidity is.
16. His cat tree helped him destroy the curtains from above.
17. Literature is not one of the hobbies of the dog who prefers to bite into books rather than read them.
18. A fearless feline who does not regret his audacity
19. A big puzzle started by its owner, immediately screwed up
20. This dog seems to regret his idea of ​​eating the chalk.

By Alexander God
Chief Editor
A graduate of a Master in Writing, Alexandre has been a dog lover since a very young age. After growing up with many dogs, this adorer of the Beaucerons unearths you every day the news that will move you and inform you about our favorite companions.