Adoption is a great moment of happiness for our 4-legged friends. As these photos show.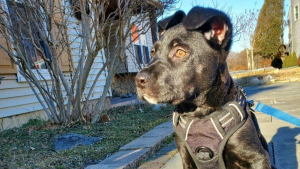 Dogs and cats experience their adoption day as the best day of their lives. For these pets, there is nothing more important than meeting the family who will open their hearts to them and welcome them into their home. The happiness this brings them can easily be seen in their eyes.
Here are 20 photos of happy adopted dogs and cats.
1. He likes this house all the more because it has lots of shelves he can climb on.
2. Adopted together, these companions love having the big bed all to themselves
3. This dog's happiness at being adopted can be seen in his big smile.
4. The sweetness of its owner is worth all the gold in the world for this feline
5. This dog wouldn't trade the comfort of this sofa for anything in the world.
6. Adopting this dog was a joy for both the dog and its owners.
7. His bed is so cozy that he doesn't leave it all day.
8. This cat is already having its first play sessions in the living room
9. Bundled up in his blanket, this cat is happy to have met his new family.
10. Her wide-open eyes are already filled with love for her owner.
11. A TV night that this dog looks forward to sharing every day with his new family
12. A lovely white cat that you can almost hear purring
13. A small family more than happy to be taken care of so well.
14. Life gave her a second chance with her adoption and her happiness is beyond doubt.
15. A comfy nap and some peace of mind this cat deserved.
16. A feline company that found all the space it needed on the windowsill
17. This dog lays his head down, relieved to have finally moved on from his turbulent past.
18. A feline who has been able to meet people who will know how to love him for what he is and take care of him
19. This puppy discovers his new neighborhood with big curious eyes.
20. 2 kittens comfortably settled in their new workstation

By Alexander God
Chief Editor
A graduate of a Master in Writing, Alexandre has been a dog lover since a very young age. After growing up with many dogs, this adorer of the Beaucerons unearths you every day the news that will move you and inform you about our favorite companions.