Some cats find their canine roommates very comfortable. As you can see in these photos.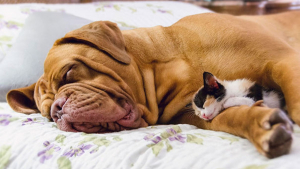 Cats are on the lookout for the cosiest corners for their naps. Sleep being sacred among felines, they would sleep on a dog if they found it comfortable. This is also the case for these cats who share their daily life with a particularly cozy dog ​​to their liking.
Here are 19 photos of cats taking their naps on a dog.
1. There is no doubt that this sleeping posture is an old habit among these companions
2. 2 black cats who have all the space they need on their friend's back
3. Of almost equal sizes, this cat and this dog are very endearing
4. 2 companions who have all the comfort they need with bed, blanket and friendship
5. Tiny and almost undetectable, a cute little kitten has found a big brother
6. A single armchair will be enough to contain them together
7. A big guy who is happy to carry the kitten on his back
8. This Rottweiler can't really see what's going on, but these kittens have his blessing.
9. The cat seems to have accepted the presence of the newcomer to the family.
10. These cats guard the dog by posting each at one end
11. A shared nap that makes you want to take a nap
12. A big guy and a tiny feline that you can't help but admire
13. This is how these friends watch TV and spend their afternoons
14. Even after having finished its nap, the cat still likes to stay a little on its friend the dog.
15. They don't look in the same direction, but they wouldn't split up for the world.
16. For this kitten, his friend's back is as big as a playpen.
17. An adorable duo that overflows with affection
18. This cat lives with 2 dogs that he loves equally.
19. A very patient dog while his friend the heavy sleeper finishes his nap
20. It's time for a game of soccer now that their nap has energized them.

By Alexander God
Chief Editor
A graduate of a Master in Writing, Alexandre has been a dog lover since a very young age. After growing up with many dogs, this adorer of the Beaucerons unearths you every day the news that will move you and inform you about our favorite companions.