Maternity is experienced as happiness by these female dogs who have just given birth. As you can see in these photos.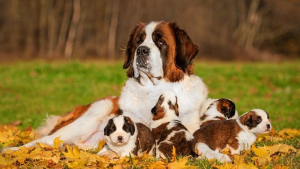 female dogs who discover motherhood also discover its joys. Indeed, when childbirth takes place in good conditions and with the support of a loving family, this event is experienced as a happy experience by the mother.
Here are 20 photos of female dogs discovering the happiness of motherhood.
1. An Australian Shepherd dog who is happy to nurse her very first litter
2. An Australian Labradoodle dog overjoyed to see her little ones around her
3. The birth night was long for this Labrador Retriever dog, but all the little ones arrived healthy
4. This dog's foster family left nothing to chance to make the whelping go as smoothly as possible
5. The smile drawn on the face of this mother does not deceive
6. This mom could use some help taking care of all those little fur balls.
7. The baby Dachshunds have arrived safely and are not lacking in appetite
8. The well-deserved rest of an Australian Labradoodle mom
9. The puppies of this Miniature Poodle look like 2 drops of water
10. The litter of this Rhodesian Ridgeback is doing perfectly well
11. 2 Pitbull parents more than proud of their little ones
12. Her babies have fur colors that range from dark to light.
13. A moment of complicity between a French Bulldog mother and her little one
14. Happiness for this Welsh Corgi Pembroke dog is seeing her little one grow up
15. A nursing mother who is happy to see that her little ones are feeding well
16. A family of Dachshunds with a dress of great elegance
17. A portrait of a Saint Bernard family in a natural and autumnal setting
18. A dog overjoyed to finally know those little ones she carried inside her
19. A dog learning to get used to her new role as a mom
20. A Cockapoo family that just got bigger

By alexander god
Chief Editor
A graduate of a Master in Writing, Alexandre has been a dog lover since a very young age. After growing up with many dogs, this adorer of the Beaucerons unearths you every day the news that will move you and inform you about our favorite companions.