Scooter is a cat who needs a wheelchair to get around, and Falco is a small dog who only has three legs, but together they have formed a wonderful friendship.
Unfortunately, the three-year-old Siamese cat injured his spine in an accident, so he can't use his hind legs. Falco, on the other hand, only has three legs, because since he was found in the middle of the streets, the little dog no longer has his limbs.
Without a doubtthe two animals have gone through different difficulties in their lives, but luckily they have found a loving home with Rose Mary Millán and Roy.
Now the adorable pair of friends enjoy hiking, wrestling, naps together and creating hundreds of pranks every day.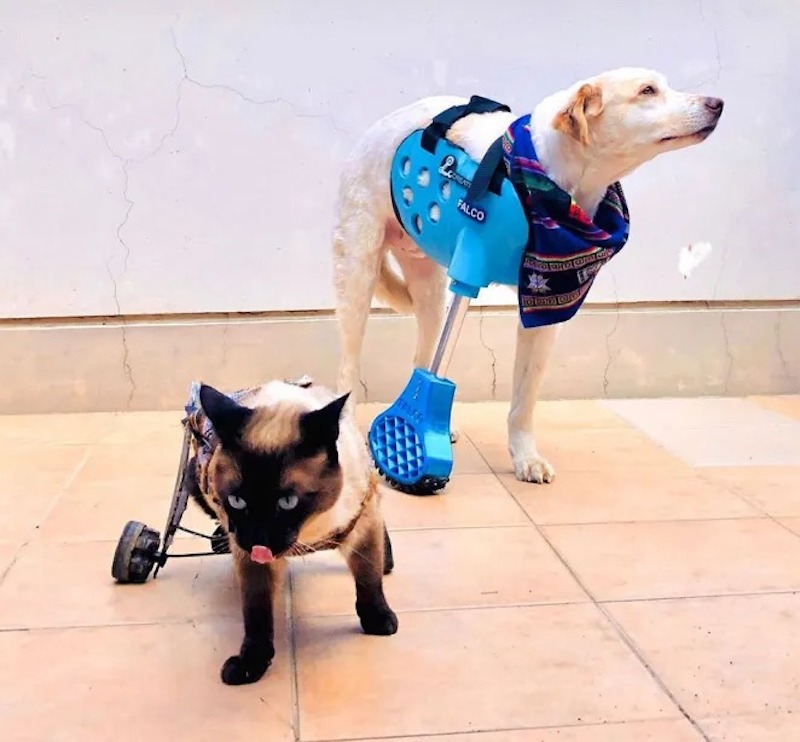 A cat in a wheelchair and a three-legged dog become best friends
Rose Mary, who lives with them in Bolivia, is delighted with the beautiful relationship between her two pets, so she often shares photos of them on social media. These two best friends have managed to steal the hearts of netizens.
Rose Mary commented:
"They get along well and enjoy spending time together. They like to live outdoors and are very adventurous. »
She adds that at home, the two animals love to fight, so much so that they could do it all day, without resting for a single moment. They also play in other ways, but she clarifies that anything goes as long as Falco is in a good mood and wants to pass. time with his brother.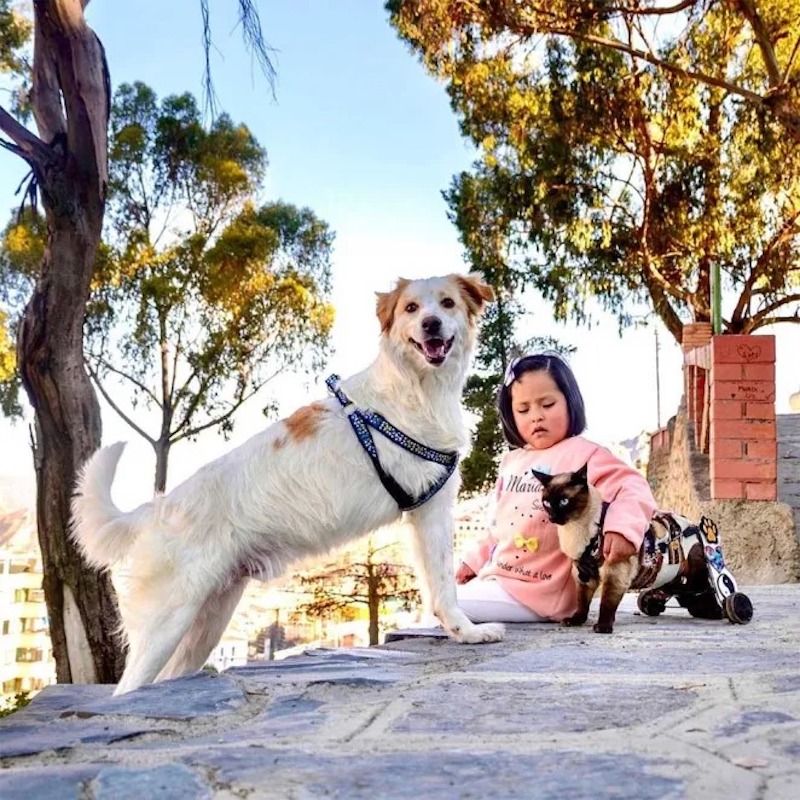 Rose Mary and her partner decided to adopt Falco after a friend found him wandering the streets alone. The little dog needed help because the wound on his amputated limb didn't look good and was in danger of becoming infected.
Rose Mary said:
"The vet said the suture on his wound was very bad. From the look of the injury, it was definitely unprofessional, but we'll never know for sure what happened. »
The stitches were horrible, however, the good intervention of the vet was able to help Falco and within days he was able to recover.
At the time, the initial idea of Rose Mary and Roy was to give Falco a foster home while waiting to find him a forever home. But, unsurprisingly, they had a hard time finding anyone who was willing to adopt a three-legged dog.
Rose then commented:
"Young and healthy animals are always adopted, but not older ones, let alone disabled ones. »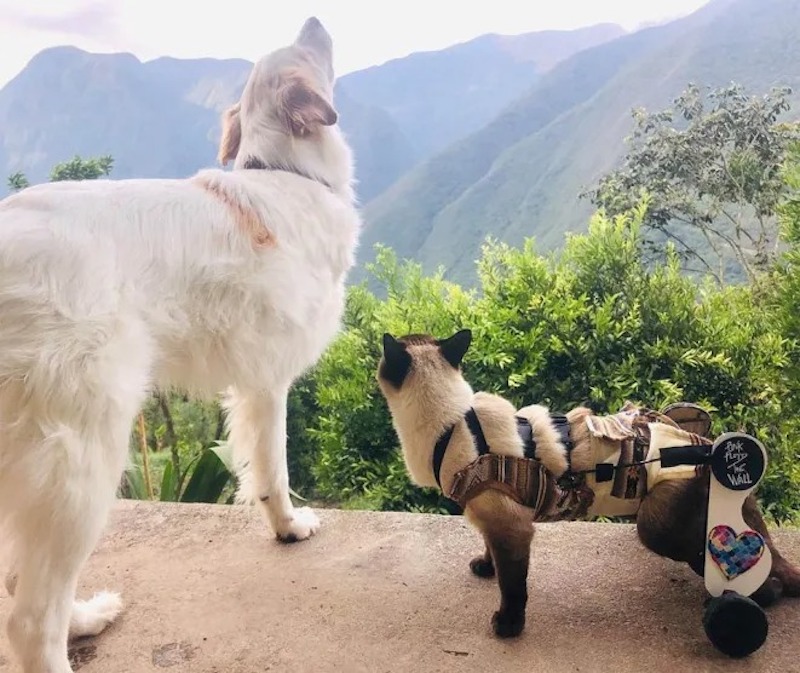 For this reason, they decided to welcome him into their home and made him an official member of their family, alongside his foster brothers. Scooter and Louis. Right from the start, he made a special connection with Scooter.
When the couple picked up each of their disabled pets, none of them had mobility aids, but they did eventually receive the necessary tools.
Rose Mary added:
"Falco received his new leg a short time ago. »
When he doesn't have his paw, he does all the activities of a normal dog, and jumps up and down like he would with three legs. But it is very important to get him used to his new prosthesis, because it will really help him move around better and have a much easier life.
Rose Mary finally added:
"I don't look for animals, they find me. I can never abandon them, especially if they are disabled".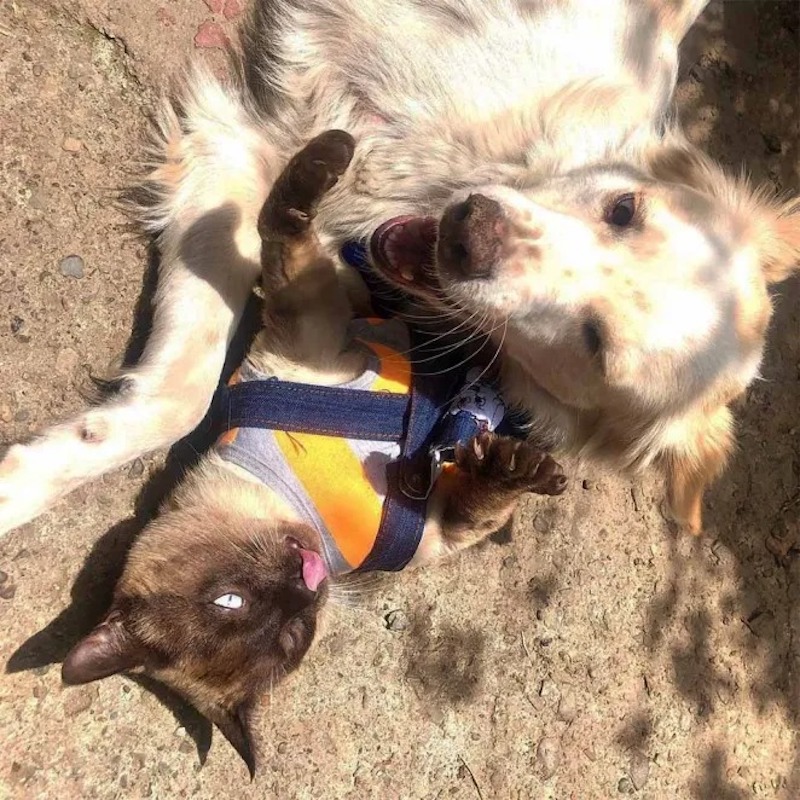 What is certain is that nothing prevents these best friends with disabilities from enjoying life and living their days to the full.