After finding a furball resembling a kitten, Jared Yost brought it home. But he shouldn't have trusted appearances!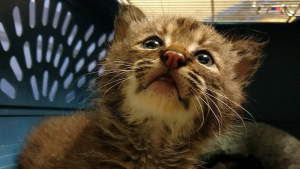 Jared Yost is a landscaper. One day, while mowing the lawn, he discovered a small ball of hair. According to him, it was an abandoned stray kitten. The man immediately came to his aid and took him home. But he was far from imagining that it was not really a cat.
Jared and his family took care of the little feline
When Jared returned home with his "cat", his family immediately adored him. The animal, for example, let itself be cuddled by the son of Jared.
He was also fed with milk, and wrapped in a warm blanket.
Jared had planned to take the "kitten" to the vet the very next day, in the hopes of then being able to adopt him, but things did not go as planned.
© Jarred Yost
The feline uttered strange cries in the middle of the night
Jared wondered about the breed of the feline, which was unlike anything he knew. But he didn't ask himself any more questions, waiting for his visit to the vet. However, in the middle of the night, the animal began to utter shrill cries that had nothing to do with meowing. There was something very wild about these cries.
© Jarred Yost
The visit to the vet revealed the truth
The next day, the visit to the veterinarian brought the answers to all the questions of Jared. The "kitten" was actually a wild bobcat! The animal was returned to Minnesota Wildlife Rehabilitation Centeras reported Animal Channel.
"The baby lynx appears to be healthy, but was dehydrated. She will spend a few days with us to stabilize, then we will transfer her to another rehabilitation center that works with bobcats.", said the center of the Minnesota.
When the female lynx is able to fend for herself, she will be reintroduced into the wild.

By Wendy Lonis
Web editor
An agricultural engineer by training, Wendy combines her passions for words and animals by writing for Pets-dating. A freelance web writer, she shares her home with many furry and feathered friends: an Australian Shepherd, chickens and even racing pigeons!