The jerky movements and wobbly gait of the Junipurr cat did not scare away the Husky Cinder, who became her best friend and support.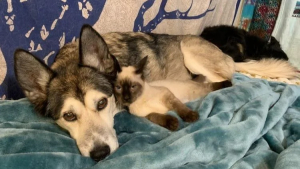 junipurr, a Siamese cross cat, was rescued from the streets by a shelter at just 5 weeks old. Unfortunately, vets soon noticed a neurological abnormality. The cat was indeed suffering from cerebellar hypoplasia,"a non-progressive neurological disorder that affects balance and coordination", as reported lovemeow.
© mojoshope / Instagram
Junipurr has integrated a shelter for his special needs
After being diagnosed, junipurr has been placed in a shelter for animals with special needs, Mojo's Hopein Alaska. She then joined a foster family, in which she was already living. Cindera Husky dog.
Cinder, who herself was rescued when she was younger, loves having new friends, especially cats. So she was excited to find out junipurr. However, the feline disease surprised her. junipurr made sudden and unexpected movements and was unable to walk properly. Cinder had never encountered a cat with this pathology before.
© mojoshope / Instagram
Cinder adapted very quickly
However, it only took a few minutes to Cinder to get used to the uncontrollable movements of junipurr. The two animals quickly played together and even snuggled up to each other.
© mojoshope / Instagram
The Husky seemed to understand that the cat had special needs, and she immediately showered her with love.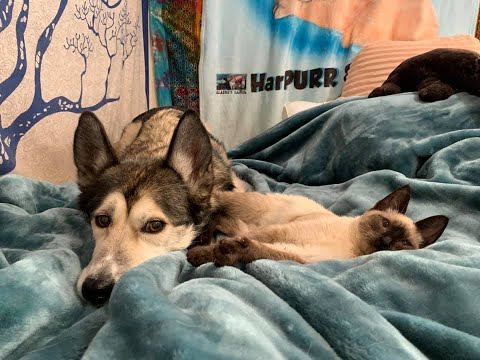 Junipurr's pathology doesn't affect his zest for life
Despite his daily difficulties, junipurr is a very enthusiastic cat, who never misses an opportunity to have fun.
© mojoshope / Instagram
"Junipurr loves to play […] One of his favorite toys is ping pong balls. It's so fun to watch her rush around […] as she chases the ball", said Shannonthe founder of Mojo's Hope. His energy is contagious, and Cinder always joins her in the games. And when the two friends are exhausted, they huddle together to rest.
© mojoshope / Instagram
The feline will soon be equipped with a small cart to help it walk, then will be offered for adoption.

By Wendy Lonis
Web editor
An agricultural engineer by training, Wendy combines her passions for words and animals by writing for Pets-dating. A freelance web writer, she shares her home with many furry and feathered friends: an Australian Shepherd, chickens and even racing pigeons!