It is a feline with a very particular appearance that has arrived at the Naples Cat Alliance shelter. The purple paws of this stray cat actually hid a terrible secret…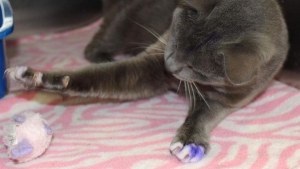 A cat with body paint? This suggests several things. In any case, when a passerby brought this stray cat to the shelter, she was far from imagining the tragic fate she had just spared the feline…
Naples Cat Alliance / Facebook
Mr. Purple Paws, so named because of his appearance, had just escaped excruciating suffering. A cat with colored paint on the white parts of its body is actually a feline designated as bait in a dogfight, reports AnimalChannel.
It is painted in a color distinct from other cats that are victims of the same fate, so that bettors can more easily spot the first one to leave. The felines do not survive and must therefore be rescued as soon as possible.
Naples Cat Alliance / Facebook
"Cruelty at its peak"
Megan Sorbarafounder of Naples Cat Alliancewas quick to call these punters "barbarians" and compare these facts to a "act of cruelty" in a post Facebookwhere netizens also did not hesitate to express their anger: "How dare they hurt these poor innocent animals? It is unhealthy, barbaric and brutal!"
Naples Cat Alliance / Facebook
It is an incredible chance that Mr. Purple Paws managed to escape in time… he who is such a cat"nice and adorable". In any case, he knows how to be grateful to those who saved his life, leaving himself "carry on the shoulders"members of the shelter.
The feline will quickly find a forever home
Naples Cat Alliance / Facebook
The wait for an adoption was not long, since Mr. Purple Paws will join his new family a week later. The cat took several baths for its purple color to disappear. Let's hope it fades as well as this bad memory…

By Maria Anki
Web editor
A great friend of animals from a very young age, Maria gives them a real devotion and follows them everywhere on social networks. Coming from a linguistic course, and therefore very keen on writing, she now takes pleasure in rubbing shoulders with the animal world accompanied by her most faithful four-legged companion, Monkey.