A volunteer from an American shelter had the unforgettable encounter of a kitten, named Aslan, armed with 4 ears on his head. This peculiarity, fortunately harmless, is now part of his daily life.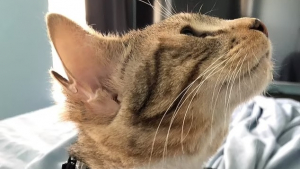 Swati Komanduri is a volunteer at Animal Safe Haven and Adoptionsa refuge of Pennsylvania. Recently, a litter of 15 kittens arrived there. Swati didn't expect to meet a very special cat…
Aslan, a short-haired little male, immediately caught her eye when she realized he had 2 pairs of ears on his head! " I've never seen that » she explains to the DailyMail.
A rare but harmless gene
The feline has 2 additional ears hidden behind the first pair. He carries a rare recessive gene which, according to a study by Journal of Heredity, is not so easily transmitted. 2 cats with normal appearance, but carriers of the gene, have only a 50% chance of transmitting it, and a 25% chance of giving birth to a kitten with 4 ears.
Fortunately, this peculiarity does not prevent him from enjoying life as his fellow creatures do. Swati can sleep soundly! Aslan is in perfect health, and loves to spend his time playing or walking.
A "privilege" for his mistress
Swati will have learned many things since the arrival ofAslan in his life. The woman who had never heard of this genetic mutation must now organize her daily life around the success of her cat on social networks!
It was inevitable that the 4 ears ofAslan would make him famous on the web. He is followed by thousands of followers on Twitterand hundreds on TikTokwhere his mistress shares his adventures with a conquered public.
@aslanthe4earedcat

His and her massages #sundayfunday #massage #catmassage #catmom #catsoftiktok #petsoftiktok #cuddle #cute #love #pamperroutine #beautyroutine #cats

♬ Moon (And It Went Like) (feat. Julia Minkin) – Kid Francescoli
" I'm so happy to have the privilege to take care of him ", said Swati. " He's mine forever ".

By Maria Anki
Web editor
A great friend of animals from a very young age, Maria gives them a real devotion and follows them everywhere on social networks. Coming from a linguistic course, and therefore very keen on writing, she now takes pleasure in rubbing shoulders with the animal world accompanied by her most faithful four-legged companion, Monkey.