Kris Kempf equated felines with an impulsive, dominant, unsocial and unloving character. He much preferred to surround himself with canines, much to the chagrin of his partner, who loves animals in general. But a little kitten asked him for help and he literally fell in love with her.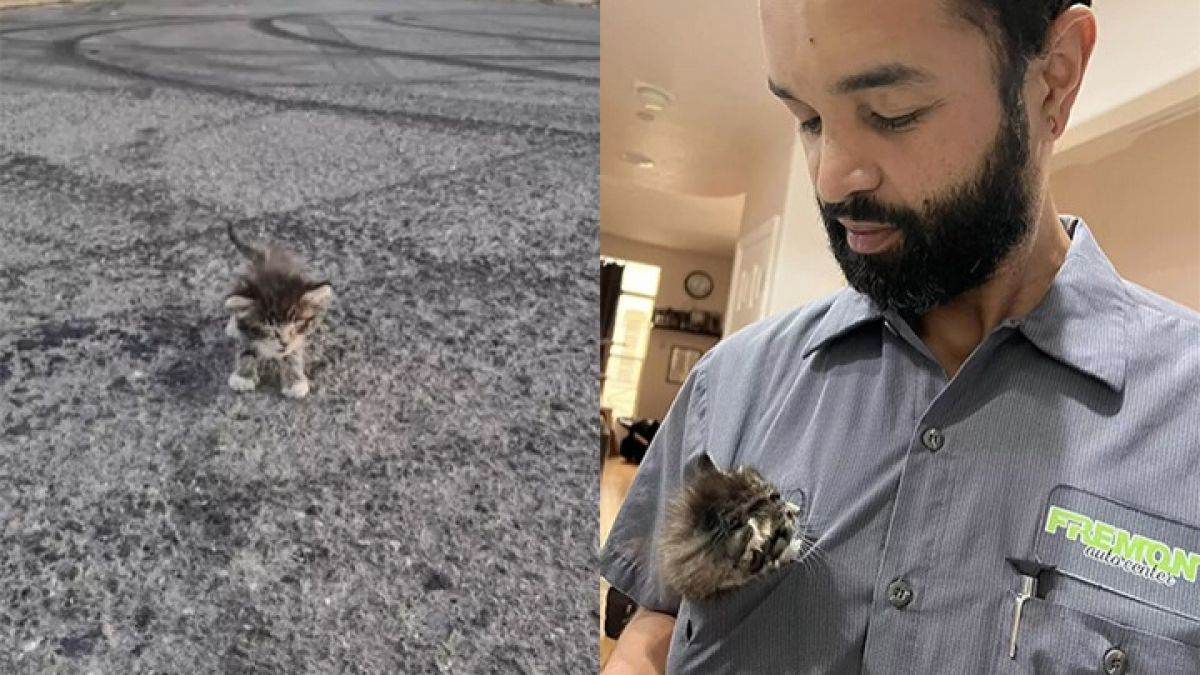 Elexis Lin and her husband Kris Kempf agree on all points except cats. The young woman had 2 cats when she met him while he had a dog.
If the dog immediately became good friends with the cats, Chris remained distant for a while and eventually accepted their presence.
"He didn't hate cats, he just didn't care and didn't know them as well as dogs"said Elexis on The Dodo.
One day, Chris and her son went for a run around the neighborhood. Suddenly, a small ball of fur burst into their field of vision. She called for help, yawned as loud as she could and got in the way of those she had chosen as her rescuers.
"I knew we had to at least try to help him"
The man then took the kitten in his arms to warm it up. The crush was instant.
Then he texted his wife to tell her they were coming home at 3. The unfortunate man was cold and dirty. He was also very hungry, but now he was fortunately in good hands.
Elexis gave him a warm bath, dried him off and then gave him a bottle of infant cat milk that Chris had gone to buy in a hurry.

@lexscircus_lexsmonkeys
With all this attention and a full stomach, the baby woke up quickly. He showed his gratitude to his good Samaritans by snuggling up to sleep with them.
against all odds, Elexis discovered her husband more sore than ever. The duo are indeed inseparable today.
The couple wonder if they will be able to keep him at home, as they already have many pets and a third child on the way.
No matter what, Elexis and Chris will find a loving home for their little protege.
Also read: On his wedding day, a cat makes a grand entrance into the church and revives the memory of his father who adored felines

By Charlotte Jourdain
Web editor
.