A donkey that had to change owners was described as asocial and unable to get along with humans and dogs. Everything changed when he met a Pitbull.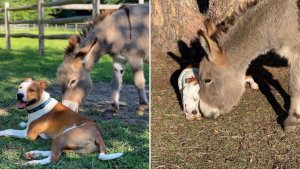 Wendell, young age of 7 months, was not an easy animal to "manage". In question, his difficult character and his unwelcoming attitude towards humans and dogs in particular. He systematically fled them despite all the goodwill of his former owners, who could no longer keep him, reported Animal Channel.
Wendell needed a new family and he finally found it. Jennifer Renn Hudock adopted him, but she didn't know how the cohabitation with the other animals living on her farm was going to unfold.
She was most worried about the reaction of the newcomer to his dog Oakley, a Pitbull. The canine has a very good temperament and loves everyone. She was sure he would be kind to the donkey.
This is moreover what he did upon the arrival of Wendell ; the dog ran up to him looking happy, as if to welcome him and invite him to play. The donkey let him approach it. He even allowed him to lick his face and ears, though he didn't let Jennifer Renn Hudock touch it in these places.
"They are love and innocence"
The current is instantly passed between the 2 animals. Since then, every morning Oakley runs to the barn to find Wendell.
The donkey also got into the habit of sharing his meal with him. " Wendell dumps some of the oats from his bucket on the ground so Oakley can eat some "says, in fact, their owner. Then they go out to spend hours playing, until they are exhausted.
Jennifer Renn Hudock is still as amazed by the beautiful friendship that unites them and the incredible transformation of Wendell thanks to Oakley. " These two friends accepted each other. No matter what they do, they love being together. They are love and innocence ", she concludes.

By alexander god
Chief Editor
A graduate of a Master in Writing, Alexandre has been a dog lover since a very young age. After growing up with many dogs, this adorer of the Beaucerons unearths you every day the news that will move you and inform you about our favorite companions.