Rue de Ménilmontant is known for its steepness, which steepens halfway through. Even as the most lazy begin to run out of steam, a lifeline is offered to them. It is made of oak and glass, a large bay window that overlooks the room of a restaurant clad mainly in raw concrete and this same type of wood, light and warm at the same time. Wood creates an atmosphere, it makes a place real.
Anastasia Rohaut, former architect and self-taught chef, applied this principle from the start when she designed Becquetance with her partner, Vincent Bielhy, room manager and sommelier trained on the job. With their respective halves, architects too, they designed this room open to the bar, open to the kitchen, protected by a glass roof, open to the street. So we can only enter.
The interior rustles with unwrinkled rain gear and laughter. Vincent is a cheerful person who makes jokes even if he is not always understood. The customers lower their heads towards him, look at him dumbfounded and then slip into his humor. That's it, they are in Becquetance. At the top right of the menu, the date is stamped in red. The dishes change very often and range from simple rillettes with pickles to a pear cake.
curious curry
But that day, there was only one dish whose poetic title compelled tasting: veal curry, Désirée, Swiss chard. It comes in a deep bowl. La Désirée is a potato with pink skin and golden yellow flesh. It is known to be slightly floury, which would not benefit it in a dish like a curry. But Anastasia decided to cook it al dente. The pink of the skin overflows a little on the blond interior of the potato. The tuber stands elegantly in the tooth, resists, before melting and releasing the mysteries of curry.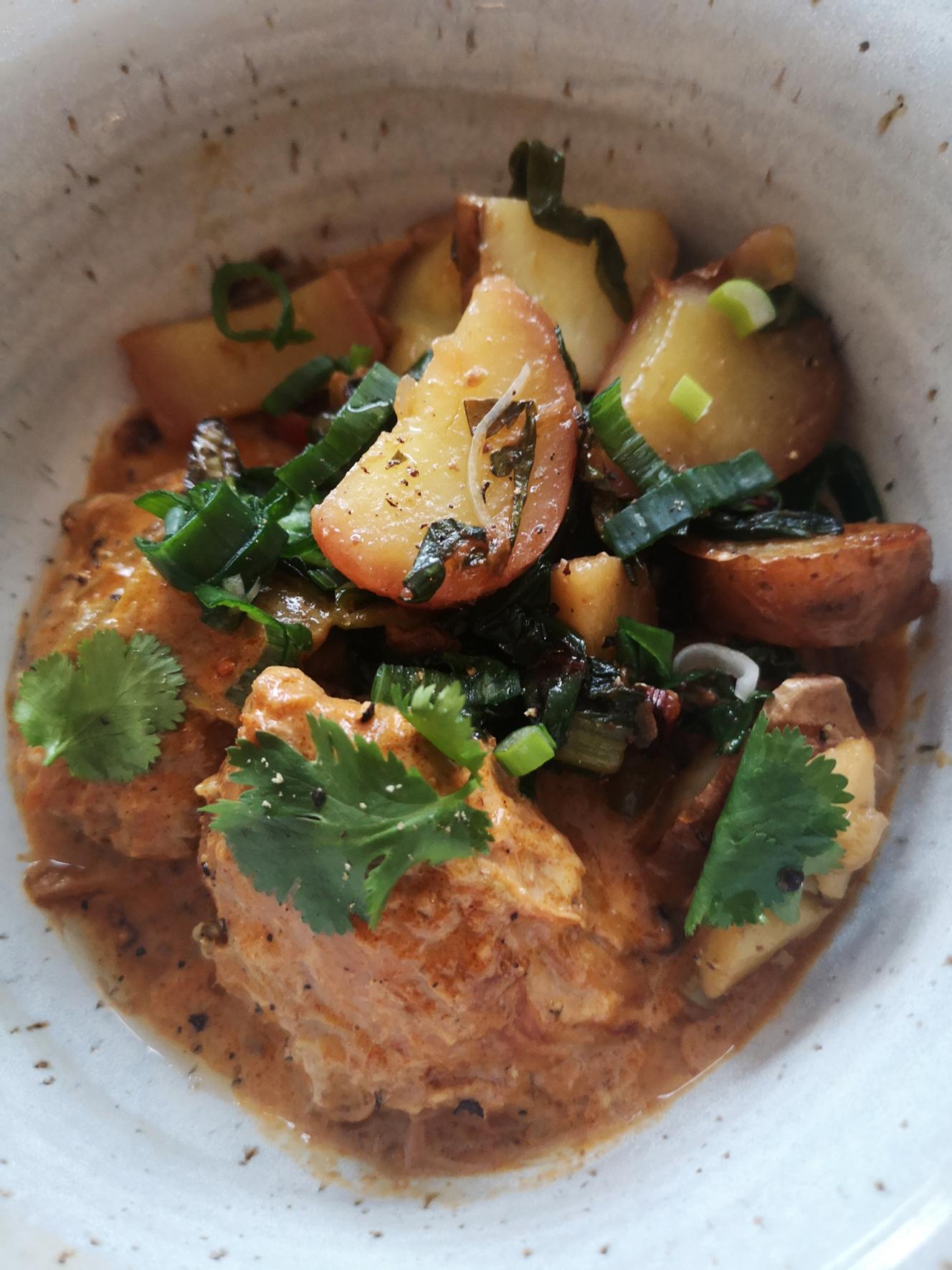 A little miso? Ginger! Coriander, red curry of course, and something indefinable that later turns out to be helichrysum. This flower, also called immortal, has, beyond its anti-aging properties, a pronounced taste of flowery, slightly green hay. Which combines with the chlorophyll of chard yet sweet. The image of a meadow whose grass finds its strength in fertile, greasy soil imposes itself on the mind. It is perched on the mountainside, with snow-capped peaks as far as the eye can see.
However, a heat undeniably rises from the ground, like animal breathing. The fibers of the veal disintegrate soberly on the palate, now bewitched by this sauce which is curry in name only. The pear cake served with raw cream sets the stage in a very Parisian reality. Back to real life after a big turn in real anything delicate. It was written that the only dish to be tasted that day was veal curry.
The address Becquetance, 67, rue de Menilmontant, Paris 20and. Such. : 01-40-30-22-97. Open Tuesday to Friday from noon to 3 p.m. and from 7 p.m. to midnight. Saturday evening only.
The essential dish Veal curry.
The detail that is not one The chef never cooks a recipe the same way twice.
The bill Lunch menu: €22. A la carte, in the evening, around €35.