Felines have a reputation for being independent and sometimes even a little wild, but are they totally indifferent to our absences? Experts answered the question.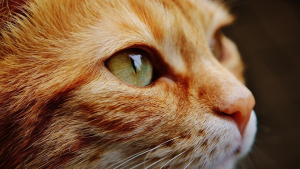 We sometimes have to go away for various reasons, and cannot always take our cats with us. But how do our little companions react? Do they feel alone? How long can we afford to leave them unattended? Newsweek tried to answer these questions with the help of experts.
Make sure the feline has everything available
Illustrative photo
The main thing before going away is to make sure that the cat " has dry food always available, fresh water available and a large clean litter box " remember Celia Haddon, cat expert and author. By respecting these conditions, our companions can stay at home for 12 to 24 hours and not miss anything.
Beyond that, it is ideal to ensure the presence of a catsitter, or cat sitter, in order to fully satisfy the needs of your tomcat and to have him eat at a fixed time, for example. Maintaining a daily routine can reassure your cat.
It all depends on the age and character of the feline
Illustrative photo
A kitten will not react the same way as an older cat. As related Newsweekthose less than 4 months old should spend a maximum of 2 to 4 hours alone, 6 month old cats up to 8 hours, and adult cats, 24 hours.
In addition, each cat approaches loneliness differently depending on its character. A feline with a solitary temperament will probably handle it better than a cat that is very close to its master. As explained Teresa Keigermember of Cat Fanciers' Association" the more bonded a cat is to its owner, the more lonely and anxious it will feel in their absence ".
A certain emotional impact
Illustrative photo
The cat's nutritional needs are not the only ones that must be met. Quickly, the feline can become stressed and adopt bad behavior. As explained Keiger" if the person to whom they are attached is absent for several days, they may gorge themselves or, on the contrary, not eat at all ".
In fact, the feline seems more inclined to adopt bad habits for its health. In addition to not eating properly, he can also relieve himself. inappropriately » by wanting to mark his territory, or having a generally more agitated attitude (meowing loudly, damaging the furniture…) in the hope of bringing his master back.
Illustrative photo
As you will have understood, cats are therefore not indifferent to our absence, and can experience separation anxiety if their basic needs have not been met. It is up to us to ensure that they have everything at their disposal, as well as sources of distraction (toys, scratching posts, etc.) as long as they do not risk any danger (remember to remove dangerous and toxic plants).

By Maria Anki
Web editor
A great friend of animals from a very young age, Maria gives them a real devotion and follows them everywhere on social networks. Coming from a linguistic course, and therefore very keen on writing, she now takes pleasure in rubbing shoulders with the animal world accompanied by her most faithful four-legged companion, Monkey.