A six-year-old female cross, Aquarius, spent nearly two years at the Marion County Animal Services Shelter in Ocala, Florida. She leaves behind the title of oldest resident of the shelter by joining Warren Robbins and his family.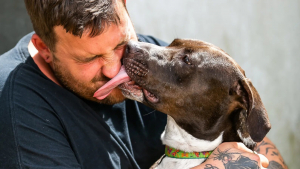 Love at first sight
Aquarius was not one of the most "fashionable" dogs. Adopters are often looking for purebred dogs or dogs socialized with other animals. And yet, love at first sight did indeed take place between the dog and Warren Robbinshis future master, during his visit to the refuge.
She's a female dog described as " extremely affectionate, fun », « loyal and full of potential by the shelter staff. Aquarius is also a calm female dog, and it is this character trait that seduced Robbins. This Pitbull cross seemed like the perfect companion for her 2-year-old son and her future baby.
An unexpected adoption
" We went to adopt a cat and came back with a dog " said Robbins in Ocala Star Banner. The family will only leave with Aquarius who needs to be the only animal in the household, which had deterred other potential adopters. The arrival of the 32-kilo dog in her new home required the establishment of certain rules, such as caging during the absence of her masters and the storage of any object or treat. Fortunately, Robbins had already adopted a 12-year-old Pitbull in 2011 and has kept some good reflexes.
As an evidence
In addition to being a calm female dog, Aquarius seduced his master, because his name actually corresponds to the astrological sign of Robbins (Aquarius means "Aquarius" in French). " OK, that's the one " he said.
Ocala Star Banner
Today, the family has kept the name ofAquarius. The dog fits perfectly into her new home and makes the happiness of her occupants. She " adore » the son of Robbins and " is doing wonderfully according to his master. " All she wants is to kiss, cuddle and be caressed ".

By Maria Anki
Web editor
A great friend of animals from a very young age, Maria gives them a real devotion and follows them everywhere on social networks. Coming from a linguistic course, and therefore very keen on writing, she now takes pleasure in rubbing shoulders with the animal world accompanied by her most faithful four-legged companion, Monkey.