Fines for walking your dog without a leash or muzzle: If you have or wish to have a pet, you should know that this comes with of a wide range of legislation. Yes, having a pet involves complying with a series of rules. This is why it is advisable to know them and, if not, to consult them before making certain decisions.
It is necessary to know all the rules relating to a pet if you do not want to be fined. Each municipality imposes its own rules regarding the keeping and care of animals, such as car transport, walks, bringing them to the beach, droppings, etc.
Keep your dog off leash
Taking your dog for a walk and letting him run and play is common in many destinations, and at the same time it sounds great because you're thinking about your pet's freedom. However, it is forbidden to take the dog without a leash, as Spanish law requires that the dog be kept on a leash and that it can only be released in the areas provided for dogs.
The fine for leading a dog loose ranges from 90 to 300 euros, and increases if the breed is considered dangerous (Pitbull Terrier, Dogo Argentino, Rottweiler, Tosa Inu, American Staffordshire Terrier, Akita Inu or Staffordshire Bull Terrier).
Depending on the Autonomous Community one resides in, these breeds can vary and include the Doberman, Dogo del Tiber, Neapolitan Mastiff, Presa Canario and Presa Mallorquín which are also on the list of potentially dangerous dogs.
In addition, potentially dangerous dogs must be walked on a non-extendable leash with a maximum length of 2 meters.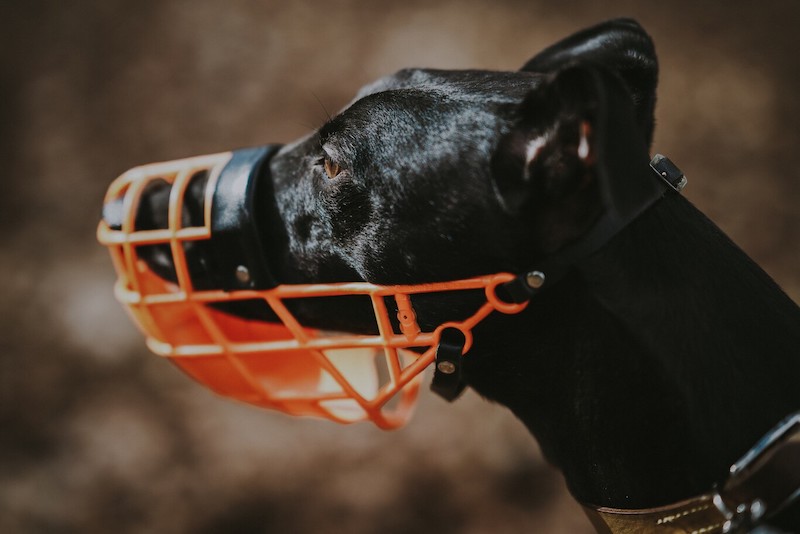 Using the muzzle
Another of the most frequently asked questions if you have a dog is when they should wear a muzzle. It is not always mandatory, but it is in some cases, especially when travelling.
In many means of transport it is mandatory, such as in RENFE Cercanías trains or in boat trips when traveling outside the area reserved for pets.
It is also mandatory in all walks in public places and spaces for dogs considered potentially dangerous according to Royal Decree 287/2002: purebred dogs, dogs that show a marked aggressive character and dogs that meet all or most of the characteristics described in the Royal Decree 287/2002.
In addition to this royal decree, there are also obligations provided for by regional laws and municipal decrees which could extend the obligation to wear a muzzle to other times and circumstances.
In this case, the fine can go up to 3,000 euros.
Muzzling is also recommended (but not required) at the following times:
To prevent bites in the case of dogs which, due to their history or temperament, exhibit aggressive behavior.
To prevent accidents in veterinary clinics or grooming salons.
To avoid risks when walking in areas where the dog often picks up food, waste or excrement on the ground.