Mohammad Imran Belaal, an independent filmmaker, was taking photos on a street in Karachi, Pakistan this week when he came across some something unusual: a stray dog ​​wearing a sweater. Although Mohammad just wanted to take a memorable photo, what followed made the moment truly unforgettable. A homeless boy who knows the dog, feeds him and gives him his sweater to keep him warm.
Mohammad wrote in a Facebook post:
"I saw this dog last night in Bahadurabaad wearing a shirt and while trying to catch him, this boy came calling him 'Jaggu, Jaggu' and the dog went mad after seeing him. He started playing with him, it was something incredible, because I have never seen a stray dog ​​play like he did with this boy who feeds him every day, and he was the one who gave his shirt to Jaggu because it's cold".
The boy's age or circumstances are not known for sure, but he is believed to be one of countless "street children" living and working in many cities in Pakistan, which makes his gesture towards Jaggu all the more remarkable.
Homeless Boy Gives Dog His Sweater To Keep Him Warm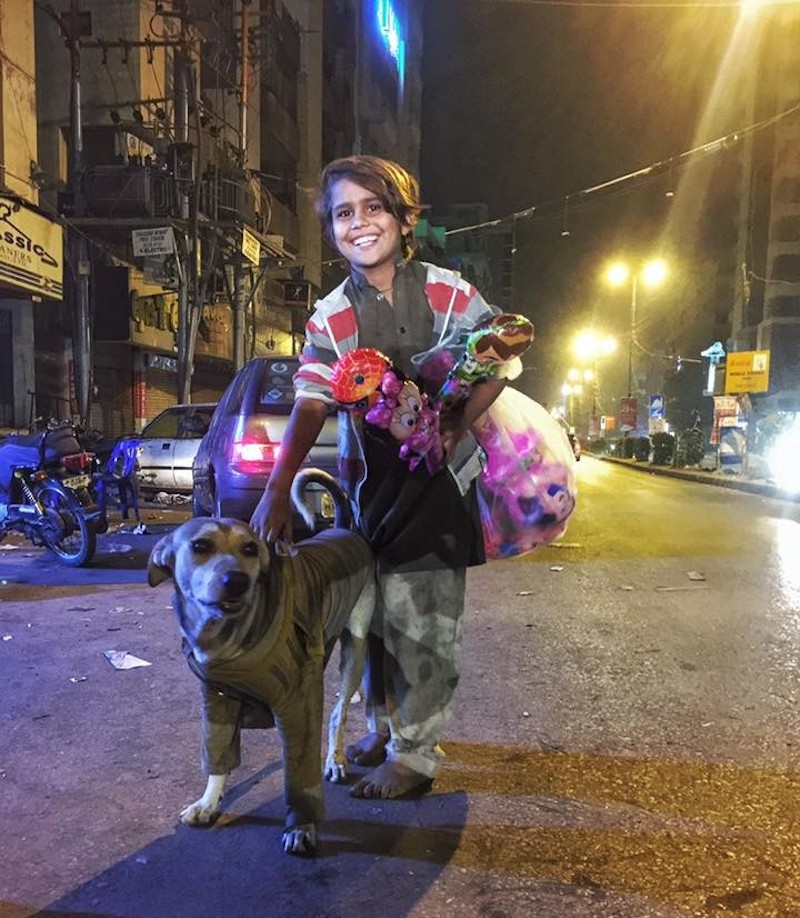 Although he lacks the most basic comforts, like a pair of shoes, the boy has found a way to keep his canine friend warm on these cold days. And he did it with a beautiful smile. The photo has gone viral on social media, and many people asked how to help both the boy and the dog.
Suhaib Jamal Nasir, a friend of the photographer, has therefore launched a GoFundMe page, where donations will be used to provide the boy and the dog with appropriate clothing, food, shelter, as well as medical care for these two best friends.
"Once the boy is located, we will open a trust account in his name so that the funds can be used by him for his immediate needs and for Jaggu the dog (food, shelter, clothing and medical care). »
Suhaib Jamal Nasir says:
"Then we will have to maintain the support and the funding to ensure that the two friends are well educated. I will publish all copies of transfers, information, balances and documents so that this whole process is transparent and gives them the assurance that their funds end up in the hands of this guy. Thank you all! ".
UPDATE:
After weeks of searching, Mohammad was finally able to find the boy.
Mohammad posted on his Facebook profile:
"The boy with the heart of gold has finally been found, after weeks of wandering the streets where I found him and asking different people who now saw me as a kidnapper. »
That's nearly $7,000 people have already donated to give this boy and his dog a better life.
Muhammad says:
"He has a big soul and loves his dog more than anything. He thinks Jaggu is his lucky charm who protected him on the streets from street children and now he will change his life like he changed Jaggu's life when he chose him to look after of him since he was a puppy".
Mohammad says he has taken all the information about his family and his life, and very soon he will reveal how they will help him and his dog.