While some restaurants favor a cappella pieces to chisel a cozy atmosphere at dinner, others swing shamelessly Angela, of the Saian Supa Crew. Should we be offended? The question is worth asking, because it concerns La Mercerie, precursor of a new gastronomic wave in Marseille.
Set up in 2018 by Julia Mitton, Laura Vidal and Harry Cummins (the latter two met at Grégory Marchand's Parisian restaurant Frenchie), the address marked the beginning of a strong culinary anchorage in the Marseille city. Passing travelers stop here to take the pulse of the city. Most often invigorating, like the cuisine of Harry Cummins who, even in his most gloomy days, remains inspired.
While the streets of the Noailles district are washed by the storm, a refuge naturally takes shape around La Mercerie, located right next to the new Pétrin Couchette bakery, launched by the same partners a few weeks ago. The decor of the restaurant, with both coated and cracked walls, has not changed.
Bewitching morel tart
The team behind the long light wood counter has grown. The atmosphere is studious, the background music (quite soft at the time) does not drown out the silence focused on preparing dinner. The cheerful room manager is already fluttering from table to table, telling the stories of the wines she recommends with a contagious smile. At our table, she will prescribe a white Saint-Joseph with the cosmic name: La Ferme des sept lunes.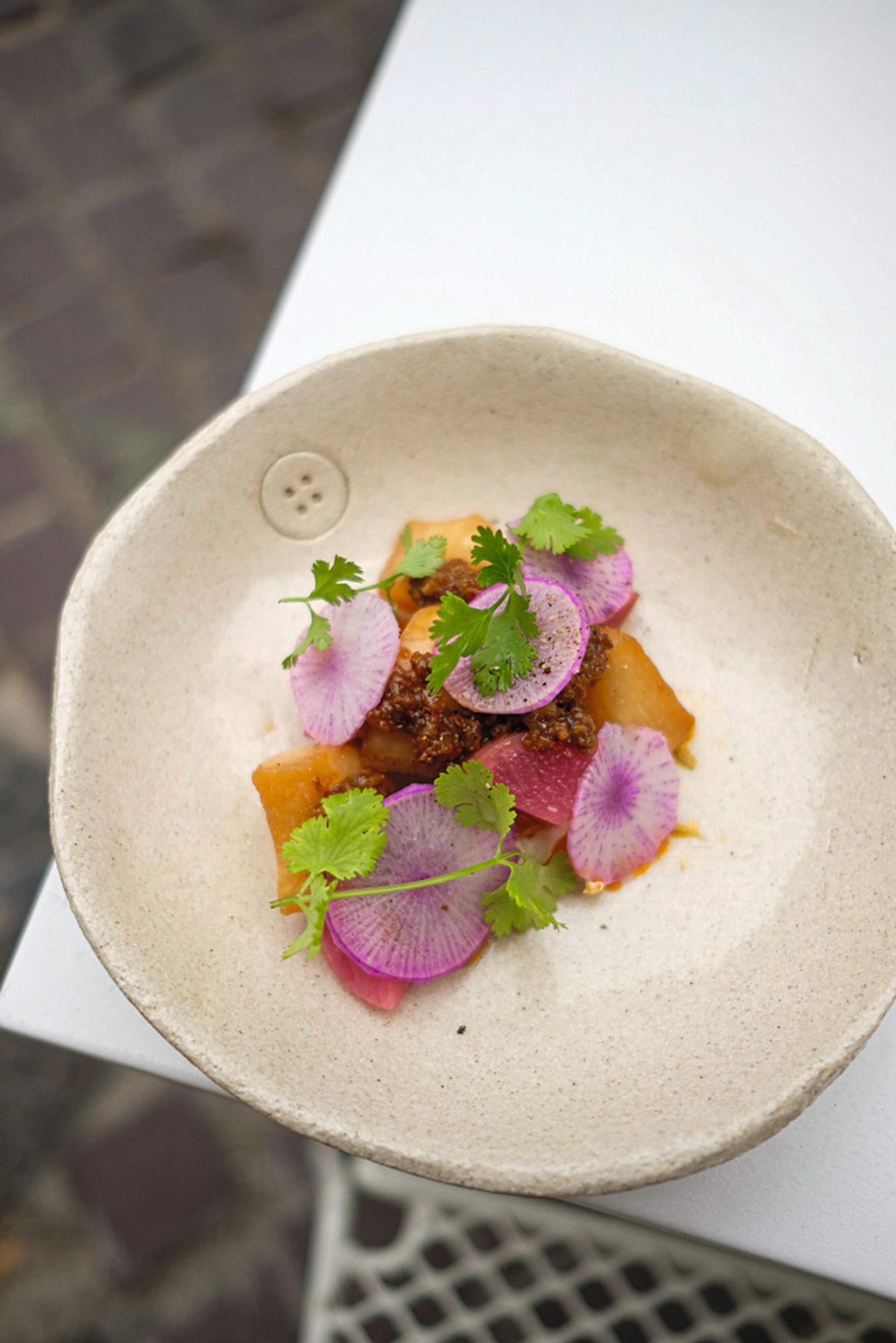 The sunny character of the wine splashes over the morel tart that presents itself. An enveloping warmth seizes the bodies after drinking a sip of Saint-Joseph and biting into the black protuberances, a powerful flavor of undergrowth drizzled with a sour cream, soothed by the butter of the puff pastry. The bewitchment is total.
But the spirit will be shaken by an association of naked products: a carpaccio of amberjack with acacia flowers. Mediterranean white fish is cut into thick slices of half a knuckle. Pink reflections can be read in the flesh softened by a drizzle of olive oil. Placed above: the acacia flowers. The fish has a surprisingly crunchy chewiness, echoed in chorus by the body of the flowers which explode into a subtle sugar. "In the shade of young girls in bloom" stands out as the ultimate title of this composition as Saïan Supa Crew begins the famous Angela. The culture shock is consumed.
The address La Haberdashery, 9, cours Saint-Louis, Marseille (Bouches-du-Rhône). Such. : 04-91-06-18-44. Open from Thursday evening to Monday, from noon to 2:30 p.m. and from 7:30 p.m. to 11 p.m. No lunch on Monday.
The essential dish Amberjack carpaccio with acacia flowers.
The detail that is not one The relationship between the winegrowers of the region and La Mercerie.
The bill 25 euros (single dish), 35 euros for lunch and 62 euros for dinner (menu).