Is today's cool yesterday's stuffy? The question arises from the very first steps at Roza. Opened in 2017 by Jean-François Pantaleon and his wife, Margaux de La Guerrande, this restaurant in the chic center of Nantes has a high ceiling worthy of its outlook: high. The chef, originally from Saint-Nazaire, worked in Paris with Yannick Alléno (at Meurice) and Jean-Pierre Vigato (at Apicius). Of the latter, he loved the cuisine and the style "watch at 20,000 on the wrist and beautiful cars".
After launching L'Affable, a discreet and tasty restaurant on the left bank, he teamed up with Matthieu Marcant and Béatriz Gonzalez, a chef of Mexican origin whom he met at La Grande Cascade. Together, they open Coretta, a restaurant that made the first days of Martin-Luther-King Park, in the 17and district of Paris, cleaning up at the same time this district which was then either too bourgeois or too popular to welcome a new version of gastronomy. They lay the first milestones of a neo-bourgeois cuisine, precisely, which does not forbid any reference to exoticism.
Frame with Anglo-Saxon airs
After the birth of his two daughters (Romane and Suzanne, hence the name Roza), François Pantaleon decided to export this new vision of cuisine to Nantes. The setting, designed by her sister-in-law Brune de La Guerrande, has Anglo-Saxon airs with its bare brickwork, marble counter and exposed beams that section the space to better reveal its majesty. The welcome is politely friendly, the clientele more in meetings than in a feast. Plates with glass domes appear, intimidating. We shouldn't forget that there is a Michelin star here…
Despite everything, the choice is made on what is most obvious, a lunch menu starter-main course-dessert. To be sure to avoid the show, but not the surprise. It is there from the entrance, in a curious remake of Vietnamese pho.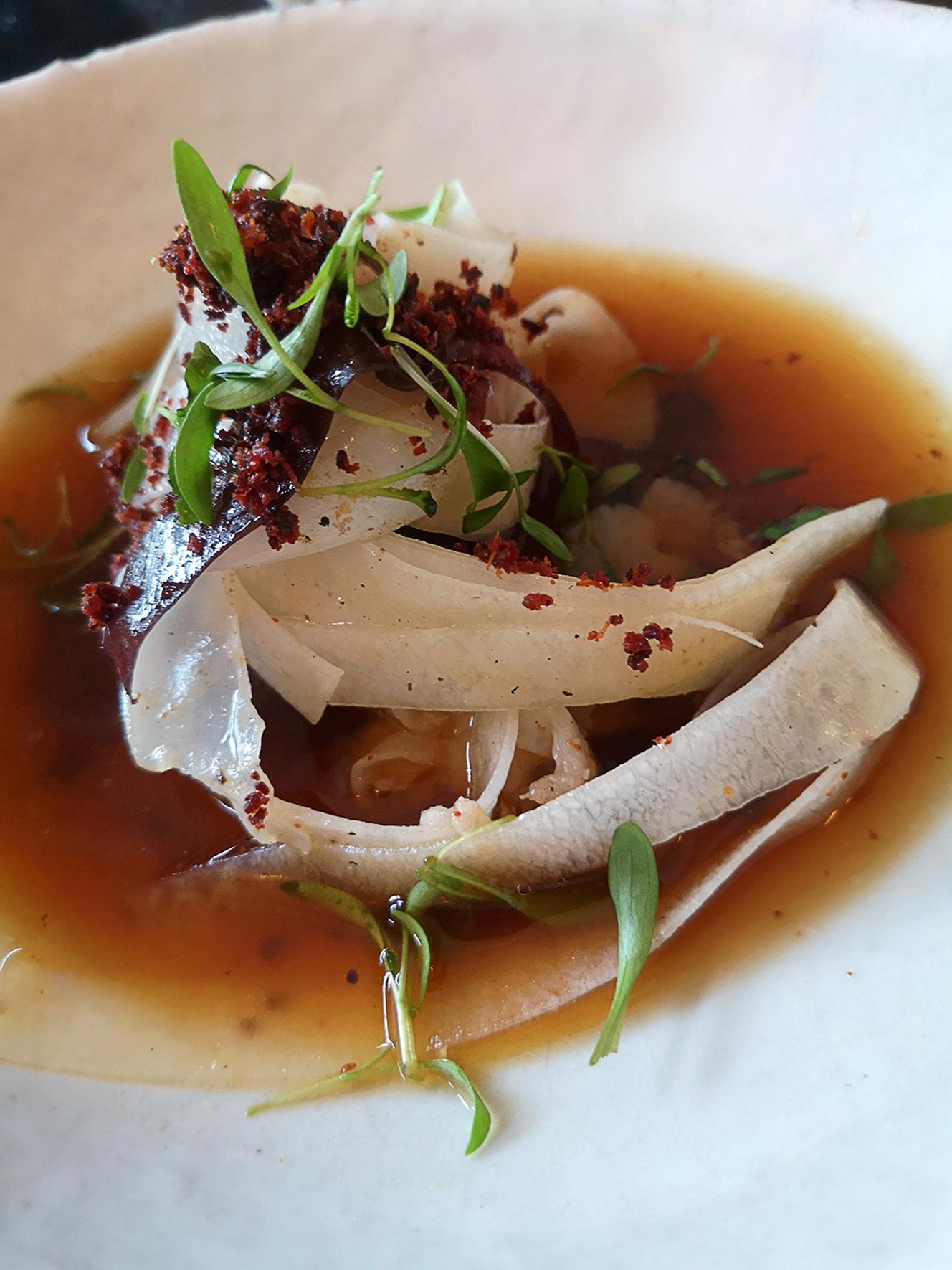 Raw daikon cut into tagliatelle merges with thin and long slices of cuttlefish creating a tone on tone of pearly white in which seaweed intermingle. The whole thing is sprinkled with Colonnata bacon powder and a few herbs. The amber beef broth exudes green and citrus vapours. Galangal, ginger, lemongrass, kaffir lime cloud the tasting which is characterized by an amusing conflict of textures: resistance of the cuttlefish, curling crunch of the daikon, chewy seaweed and "slurp" of the broth.
Read our review:
Restaurant: Becquetance, fine high-level mouthpieces
A big slap unfortunately calmed down by the main course, very agreed: a very good pork, certainly, a delicious roasted beetroot, well, a spinach gnocchi a little coarser, blah. For dessert, the poached pear, Genoa bread and siphon of almond milk will not save the honor of cool and will rather impose it as the new convention. Shame.
The address Roza, 3, place de la Monnaie, Nantes (Loire-Atlantique). Such. : 02-40-54-01-87. Open Monday to Friday from 12:15 p.m. to 1:30 p.m. and from 7:30 p.m. to 9:30 p.m.
The essential dish Cuttlefish and daikon tagliatelle.
The detail that is not one The gap between the exposed bricks and the glass domes on the dishes.
The bill Lunch menu 35 euros, tasting menu 75 euros.