An investigation has been opened to understand the circumstances in which two kittens were abandoned among the garbage.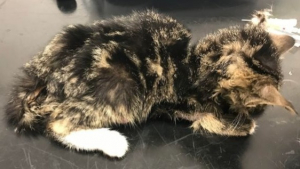 To ashingtonin England, two kittens were found abandoned, locked in their crate, behind garbage cans. They were saved when they were about to starve to death.
The two kittens were close to death
It was in a transport box for cats, over a gray fleece, that two kittens were found on the verge of death. Locked in, and therefore without the possibility of eating or drinking, they were abandoned in the middle of the waste, behind street bins.
© RSPCA
One of the kittens was a white and black female, and the other was a tabby male. Both were extremely thin. In a state of severe malnutrition. "Both kittens would have died if they hadn't been picked up. They had both been starved and they weighed nothing", said Rachel Hirstinspector of the RSPCAin words reported by Chronicle Live.
The female also had a cut on her neck, which suggested that someone had wanted to remove some matted fur from her, and had inadvertently cut a piece of skin.
The kittens were found just in time
Luckily, the kittens were found just in time. "They were found by a woman who lives a few blocks away, while she was walking her dog", Told Rachel.
© RSPCA
The care by the veterinarians was complicated. Indeed, the male was so thin that it was very difficult to attach an intravenous catheter to him. It was necessary to put it in the neck, instead of the legs or the stomach. The kittens also had very cold bodies and took several hours to warm up.
The female was named Matilda and the male Barney. They are both doing better now, although they still pounce on the food as if it were going to be stolen from them. When they are healthy, they will be offered for adoption.
© RSPCA
An investigation has been opened
An investigation has been opened to understand the situation. Neighbors or passers-by may have seen someone abandon the animals. As explained Rachel"there could be other kittens and the mother could also need veterinary treatment, so it would be good to check if other animals are present".

By Wendy Lonis
Web editor
An agricultural engineer by training, Wendy combines her passions for words and animals by writing for Pets-dating. A freelance web writer, she shares her home with many furry and feathered friends: an Australian Shepherd, chickens and even racing pigeons!