Nothing beats a mother's love. This is what Ballerina brought to Cleopatra, a newborn Sphynx who was rejected by her mother. The cat took care of the little kitten like her own child, and her protective behavior aroused admiration.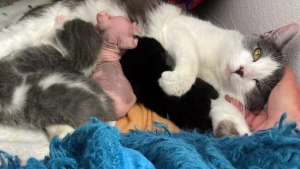 Cleopatra had just been born when she arrived at Helen Woodward Animal Center, a California shelter. This little Sphynx was the only surviving cat in the litter, and seemed to have been abandoned by her mother.
Helen Woodward Animal Center/Instagram
From then on, the vulnerable little feline was cared for and fed by the members of the shelter, but it was surely her encounter with Ballerina which will really put it back on its feet.
She just needed a mother
Quickly, a short-haired alley cat by the name of Ballerina arrived. She was pregnant and gave birth to her babies 3 days later. The mother did not distinguish between her newborns and Cleopatrawhom she immediately took under her wing.
She showed up"extremely affectionate" towards her and even breastfed her, according to Erin Schmitt, manager of the shelter. She entrusts to People : " It's as if Ballerina sensed a need in Cleo and decided not only to nurture her, but also to give her all the love she lacked. ".
The two felines and the babies bean, Biscuit and bunny formed a happy and inseparable family, filled with love. Once ready, the cats were able to leave the shelter and return to their forever home.
The adoption of Cleopatra took a little longer. Wanting to ensure the well-being of Sphynxthe members of the shelter demanded certain conditions from potential adopters: living in the area, owning or having already owned a cat of this breed, and presenting in an essay the reasons why they would make the perfect parents for Cleopatra. Having such success on instagramthe cat quickly found her new family.

By Maria Anki
Web editor
A great friend of animals from a very young age, Maria gives them a real devotion and follows them everywhere on social networks. Coming from a linguistic course, and therefore very keen on writing, she now takes pleasure in rubbing shoulders with the animal world accompanied by her most faithful four-legged companion, Monkey.