Scientists note the arrival of colored ticks in Luxembourg. They are especially dangerous for dogs, but also bite humans.
Fearsome disease vectors
Scientists note the arrival of colored ticks in Luxembourg. They are especially dangerous for dogs, but also bite humans.
(mm with Volker BINGENHEIMER) – The other day, while emptying his mailbox, Dr. Alexander Weigand found an unusual letter in it. "I opened the envelope and found a plastic sleeve. Inside, a live tick was crawling," says the biologist and curator of the Museum of Nature. A concerned citizen had picked up the tick, which seemed unusual to Grevenmacher, without hesitation and sent it to the tick expert.
---
---
The tick, which was still active, was put in the freezer and examined under a microscope in the laboratory of the Museum of Nature. It was an alluvial forest tick.
Throughout the Greater Region, multicolored ticks are spreading and can spread meningitis and typhus. The predominant species of tick, however, remains the common xylocope, which is reddish and black in color.
The species has gained a foothold in the south
Within a short time, the Auwald tick (Luxembourgish: "Suppenzeck") has spread to Luxembourg and now forms a stable population. The species, which belongs to the red tick family and mostly chooses dogs as hosts, is mottled and larger than native species. These pesky little beasts move like spiders.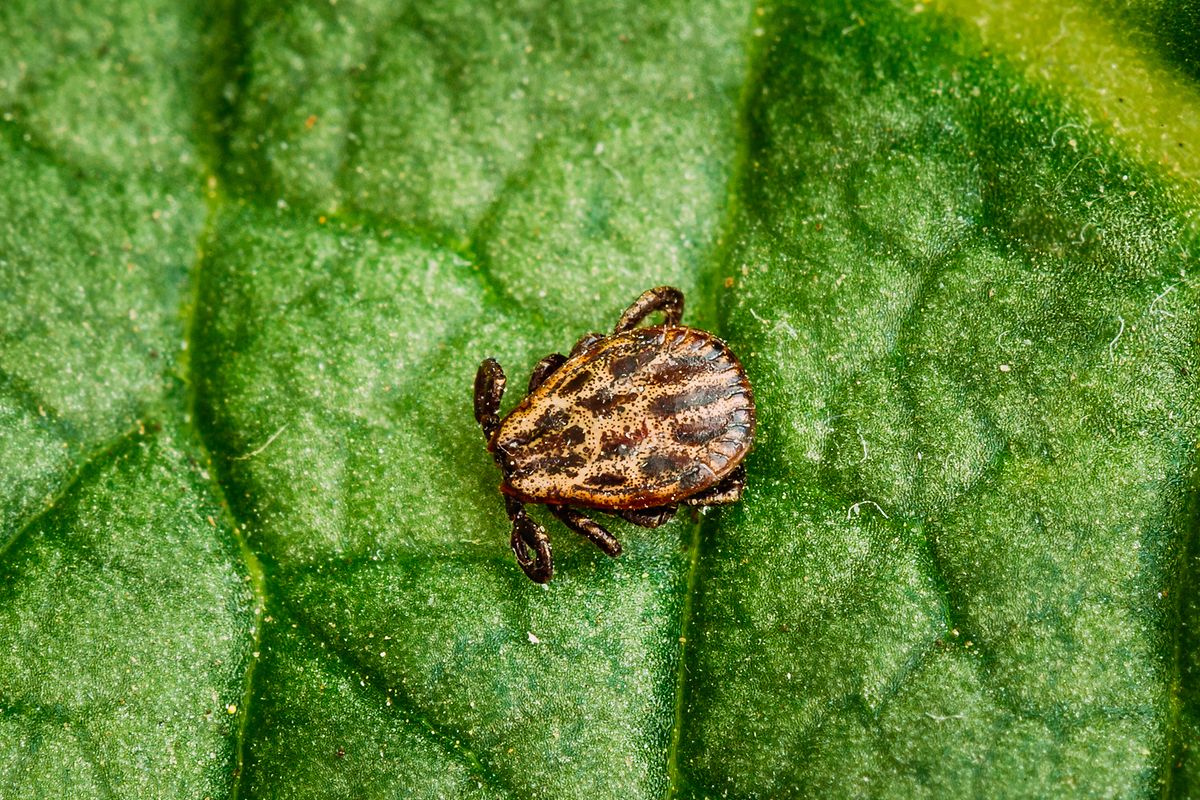 The alluvial forest tick has firmly established itself in the southern half of Luxembourg.
Photo: Shutterstock
In 2015, the first specimen was discovered in Wellenstein, in the canton of Remich. Since then, this new species of tick has settled in the southern half of the country.
Originally, the alluvial forest tick is native to Austria and Hungary, but it found its way to the warm regions of Western Europe. The sunny Moselle valley serves as a distribution corridor. It may seem strange that a small five-millimeter animal with short legs, which can only crawl a few meters, can cover such long distances. "We must not start from the individual animal, but from the whole population. It spread to Luxembourg in a natural way, that is to say with the help of host animals," explains biologist Alexander Weigand.
If the spread is so rapid, it is also because red ticks reproduce at a disconcerting speed. After her blood meal, a fertilized female lays between 3,000 and 5,000 eggs, which then hatch into larvae.
The alluvial forest tick mainly attacks dogs, but also mammals of similar size such as sheep, wild boar or deer. Humans are also bitten, but more rarely.
Bloodsuckers are feared because they transmit canine malaria (babesiosis), but they can also transmit FSME and Q fever through their bite. "It is mainly adult individuals that transmit these diseases, less the nymphs," explains tick expert Alexander Weigand. "Most of the time, viruses and bacteria come from the intermediate hosts. It can be cows, rodents or hedgehogs".
Christina Gerstenmayer from Trier had a bad experience with an alluvial forest tick. Last fall, the animal bit her four-year-old daughter on the scalp. "She developed a purulent inflammation at the bite site, followed by a high fever for several days, so we had to take her to the hospital," says the mother.
After a long period of mystery, doctors have diagnosed a rare bacterial infection. The antibiotics given did not work. "Fortunately, the fever went away on its own after five days," says Christina Gerstenmayer. Her daughter is fine again, only the bite is still red today.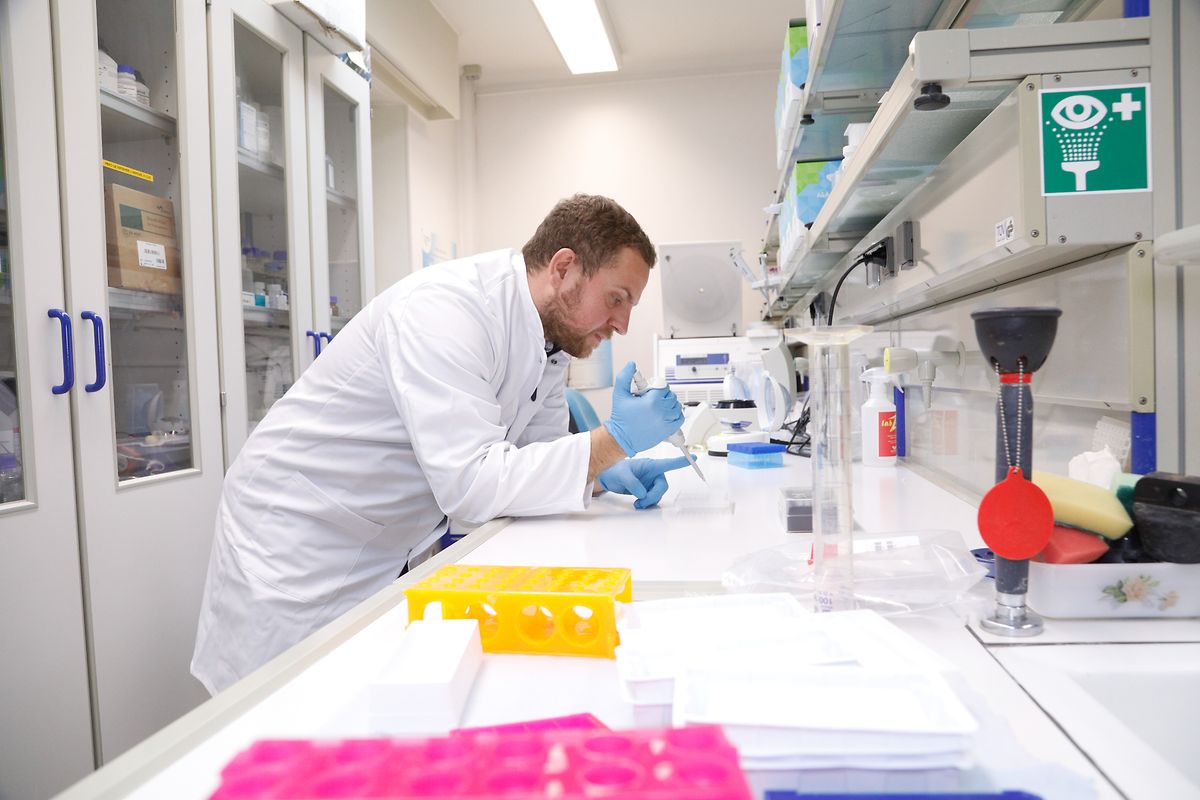 In the laboratory, Dr. Alexander Weigand makes a DNA profile of the ticks sent.
Photo: Anouk Antony
A second invasive tick species has appeared in western Rhineland-Palatinate. The sheep tick also attacks humans and causes pain around the bite for months, scabs on the skin and swollen lymph nodes. One patient has even contracted typhus. This disease caused by bacteria last broke out in Europe as an epidemic during World War II. However, no sheep ticks have yet appeared in Luxembourg.
put your pants in your socks
To protect yourself from a tick bite while hiking in the forest or in the meadow, there is a simple trick: wear long pants and put the trouser legs in the socks. Small insects are also easier to spot on light-coloured clothing than on dark clothing.
After a long stay in the garden or in nature, the whole body should also be carefully inspected for a possible tick. If you spot a bite and the tick is embedded in your skin, it should be removed as soon as possible using tick tweezers or a tick card.
Follow us on Facebook, Twitter and subscribe to our 5 p.m. newsletter.
---