Abandoned by the side of the road, Red carries with him the physical and emotional scars of this trauma.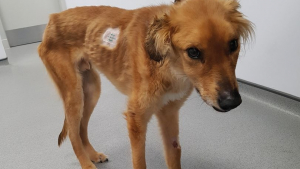 Red is a Greyhound mix living in Scotland. He was found on the side of a one-way road, in poor physical and psychological health. Abandoned by its master, the animal was completely broken.
More than 9 months of veterinary care were necessary
Red was welcomed by the SPCA Scottish. In this refuge, he was taken care of by veterinarians. They diagnosed painful and swollen joints, pathology in the teeth, as well as fever. Doctors initially thought it was an infection. But the reality was much worse.
After the failure of the first treatments, which did not allow Red to regain weight, new analyzes were carried out. They revealed that he was suffering from "autoimmune disease (immune-mediated arthritis) and needed long treatment and regular blood tests", as the veterinarian explained Jo Neilsonin words reported by the Daily Record.
Physical health regained, but still a long way to go
Luckily, with the appropriate treatment and care, Red survived and recovered from his illness. If he had to be treated in a private clinic, the cost of his medical course would have amounted to more than 5000 dollars! The presence of veterinarians in the center made it possible to treat him at a lower cost.
© Scottish SPCA
But not all Greyhound injuries are visible. Inside, the animal still suffered from being abandoned. Jo Neilson said : " Unfortunately, Red's story is not an isolated one. Many animals come to us literally broken. […] Some have been suffering for a long time, bearing physical and emotional scars. Animals cannot tell us where it hurts, why they are sick or why they are afraid. […] It's our job to find out what happened to the animals and what treatment they need. […] We don't just mend broken bones. We also mend broken hearts."
The Greyhound was adopted by one of the veterinary assistants
Red is indeed a "Broken Heart". But the shelter's veterinarians and veterinary assistants spend a lot of time with the animals and become inescapably attached to them.
© Scottish SPCA
One of the veterinary assistants is "fallen in love" of Red, and she did not want to part with it. So she chose to adopt him. Let's hope that the Greyhound will find in her all the love he needs to rebuild himself.

By Wendy Lonis
Web editor
An agricultural engineer by training, Wendy combines her passions for words and animals by writing for Pets-dating. A freelance web writer, she shares her home with many furry and feathered friends: an Australian Shepherd, chickens and even racing pigeons!