Brittney Reynolds was angry that her sweet dog was barking at their neighbor, until she found out why…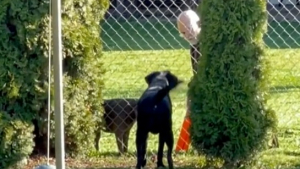 Brittney Reynolds is the owner of Bounder, a dog whose favorite game is to fetch what is thrown at him. "He is obsessed [par ce jeu]" she confided to The Dodo. "He'll play it until I make him stop".
Bounder is a very nice canine and loves everyone he meets. So when he started barking at the neighbor, his mom was very upset. She decided to investigate.
Bounder and the neighbor were playing in secret
One day when Bounder barked at the neighbor once more, Brittney discreetly observed what was happening. The neighbor was sitting at his outdoor table, on which rested a ball thrower. The man took his pistol, approached the fence separating the two gardens, pulled the trigger, and a bullet flew into the air.
© brittneygoes / TikTok
Delighted, Bounder rushed to get it, then returned it to the neighbor through the fence.
@brittneygoes

He brings it back to the edge of the fence. #blacklab #doglover #SeeHerGreatness

♬ Home – Edith Whiskers
Brittney then realized that Bounder barked to ask the neighbor to play with him! "It was so cute. I went to thank him for playing with my boy and found out they had been doing this for a while", she said.
The neighbor had a dog himself
The neighbor happened to be an animal lover and had a dog himself. When he threw the ball to his animal, Lyla, Bounder wanted to join them. So the neighbor started playing with him as well.
© brittneygoes / TikTok
Brittney shared on TikTok a video of Bounder having fun with neighbor. She then received many comments asking why not create a gate between the gardens to let the dogs play together. Some time later, the owner of Bounder then posted another video titled "The moment TikTok has been waiting for. Bounder and Lyla had a play date". In the pictures we see Lylathe neighbor's female dog, cross the fence to go play ball with Bounder. A very nice neighborly relationship!
@brittneygoes

The moment TikTok's been waiting for. Bounder and Lyla had a play date. #doglover #OscarsAtHome #blacklab #staffordshire

♬ Just a Cloud Away – Pharrell Williams

By Wendy Lonis
Web editor
An agricultural engineer by training, Wendy combines her passions for words and animals by writing for Pets-dating. A freelance web writer, she shares her home with many furry and feathered friends: an Australian Shepherd, chickens and even racing pigeons!