What a long way Mabrouk has traveled, a kitten in very bad shape when he was discovered in a garden, and having turned into a magnificent cat in great shape. He was even offered a brother after his rescue.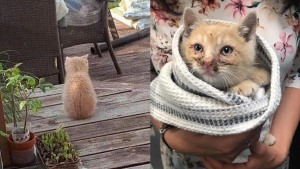 In Canada, a mother was surprised to discover, in the backyard of her house, a stray kitten who kept crying. The animal clearly needed help and care; his eyes were covered in scabs and seemed to be having trouble breathing, says lovemeow.

Orphan Kittens Montreal / Facebook
The owner of the premises had tried to seize the young red feline, but in vain. She then asked for help from associations in the region. she and Josievolunteers, were the first to respond.
They reassured the kitten and wrapped it in a towel, then took it to the refuge of Montreal Orphan Kittens. As soon as he arrived, he was examined by a veterinarian.

Orphan Kittens Montreal / Facebook
The little cat was called Mabrouk by the team of the association. " He was barely 10 weeks old and was suffering. He was breathing hard. He was put on antibiotics ", details Celine Crom of Montreal Orphan Kittens.

Orphan Kittens Montreal / Facebook
placed in foster care, Mabrouk quickly adapted to his new surroundings. Very affectionate, he got into the habit of lying on his back to ask for caresses on his stomach.

Orphan Kittens Montreal / Facebook
A "curious little teddy bear"
After recovering from his cold thanks to the treatments, he regained his strength and started exploring the surroundings, playing and climbing without restraint.
" This little teddy is curious about everything and has grown so much since his arrival ", says of him Celine Crom. She introduced him to another ginger kitten, Rubbix. From the moment they met, they became inseparable.

Orphan Kittens Montreal / Facebook
They spend their time playing together, sleeping side by side and looking out the window at what is happening outside. True brothers…

Orphan Kittens Montreal / Facebook

By alexander god
Chief Editor
A graduate of a Master in Writing, Alexandre has been a dog lover since a very young age. After growing up with many dogs, this adorer of the Beaucerons unearths you every day the news that will move you and inform you about our favorite companions.