After two months without giving any sign of life, a cat was found on the images of a surveillance camera, in the process of "chatting" with a fox.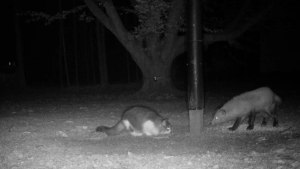 It sometimes happens that cats with access to the outside disappear for a few weeks. In these moments, owners have only one fear: that their animal will be run over by a car or that something else will happen to it and that it will never come home. After two months of disappearance, the owners of thumper never expected to see him again. Until he appeared on surveillance cameras…
Thumper was spotted on a garden surveillance camera
Carolyn Meadow has a surveillance camera in his garden. At night, wild animals sometimes come to her house. She therefore got into the habit of watching the recordings to observe these little creatures. One day, she saw a cat pass on the video. He then appeared many times.
© Chelsea Tarbox
"At first we assumed that this cat must belong to a neighbor, but it was strange that we only saw it at night; never any sign of him during the day", said Carolynin words reported by NDB.
Otherwise, Carolyn knew that a fox sometimes prowled around, and feared that the path of the two animals would cross.
A confusing face-to-face
The fear of Carolyn turned out to be justified, since one morning she discovered the video of thumper truffle-to-truffle with the fox. But against all expectations, the meeting was peaceful. The two animals seemed surprised and curious to see each other. Neither was aggressive.
After seeing these unexpected images, Carolyn wanted to coax the cat, which she imagined to be wild. She began to drop off food for him day after day, ever closer to the entrance to his house.
© Chelsea Tarbox
Thumper was not a wildcat
One night, thumper walked up to Carolyn and put his nose to his hand. "This was clearly not the behavior of a feral cat", said the woman. The cat came more and more regularly, demanding its food.
Carolyn then started looking for Facebook if she found any information about the animal. She ended up coming across a publication reporting her disappearance, two months earlier.
Carolyn contacted the owner, who despaired of ever being able to find thumper. The latter explained to her that she had moved, and that her cat would have fled at that moment. He probably couldn't find the new place.
But thanks to the CCTV recording, the cat and his mistress are reunited again!

By Wendy Lonis
Web editor
An agricultural engineer by training, Wendy combines her passions for words and animals by writing for Pets-dating. A freelance web writer, she shares her home with many furry and feathered friends: an Australian Shepherd, chickens and even racing pigeons!