This poor cat had somehow sought refuge in an air conditioner to avoid being swept away by the unprecedented flooding caused by Hurricane Ian, which hit Florida. Fortunately, a good Samaritan saw him and rushed outside to help him.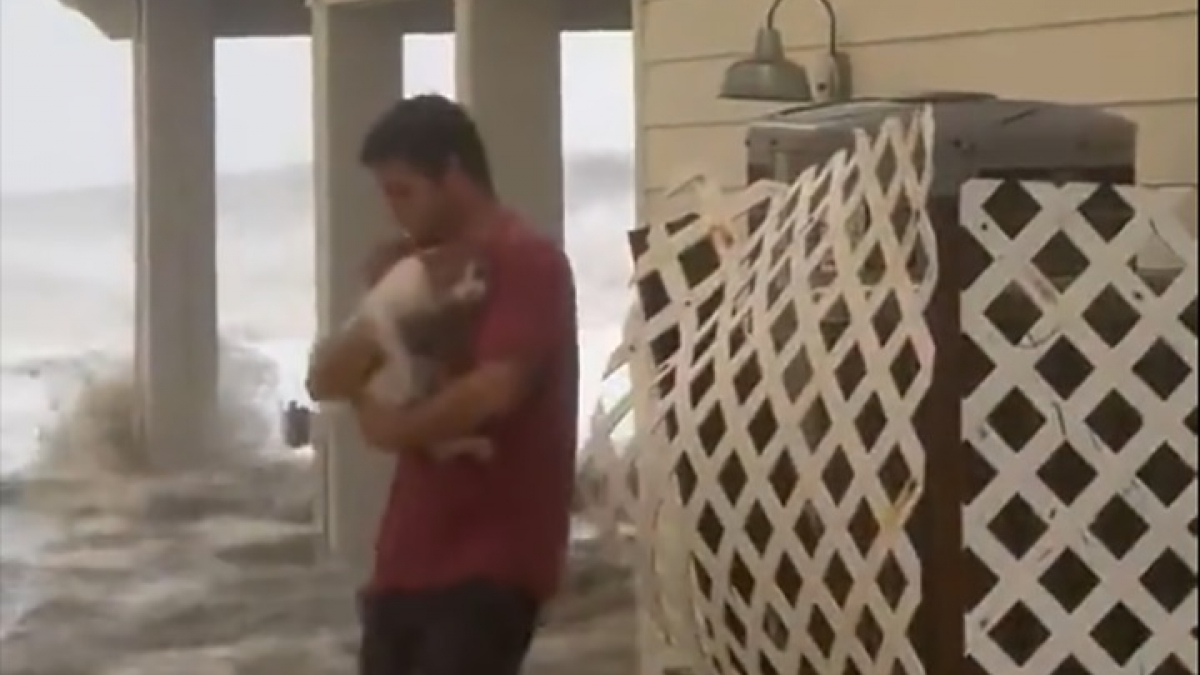 The scene was filmed by Megan Cruz Scavothe companion of the budding rescuer Mike Ross. The couple, from the state Californiaare used to hurricanes like the one inIan. However, Mike admitted to The Washington Post that the latter was "particularly terrible".
Knowing what to expect, Mike and Meganwho lives in Bonita Springs in the southwestern part of Florida (United States), had sought refuge nearby with the young man's parents because their house was already under water.
"They have a kind of fortress built to withstand hurricanes"he specified.
On Wednesday, September 28, around 2 p.m., the entire small family was well sheltered and watched helplessly as the wind gusts quickly reached 240 kilometers per hour.
Suddenly, Mike discovered an alley cat in bad shape.
The unfortunate man was caught in the middle of the rising water. It had perched on top of an air conditioner outside a building. He was in danger of being carried away at any moment.
My boyfriend saves a cat from flooding near Bonita Beach. #hurricane #Naples #Bonita #FortMyers pic.twitter.com/BlBC9P1rdy

— Megan Cruz Scavo (@MeganScavo) 28 September 2022
"I couldn't imagine leaving him there"
Mike rushed out, whileIan would soon reach land. Knee-deep in the current, he went to the unfortunate man, carried him safely to his chest and carried him home.
"He was scared, but he was fine"testified the Good Samaritan before adding that he is now wisely waiting with them for the storm to pass.
Mike and Megan also shared that if they can't find his owners, they will adopt him.
Also read: A kitten meowing in despair during a torrential rain enjoys the soft warmth of a dog's paws (video)

Mike Ross/The Washington Post
The video of the rescue, which was posted on Twitter, has gone viral. It was viewed more than 1.1 million times in less than 24 hours.
Mike is now a true hero in the eyes of society and the red cat, a star in social networks.

By Charlotte Jourdain
Web editor
.