This formerly wandering kitty knows how to make herself understood! His adoptive mother fell under his spell and we can guess why. She has the habit of going to get her by taking her hands in her mouth to lead her where she wants. This time it was to show her the most beautiful thing in the world.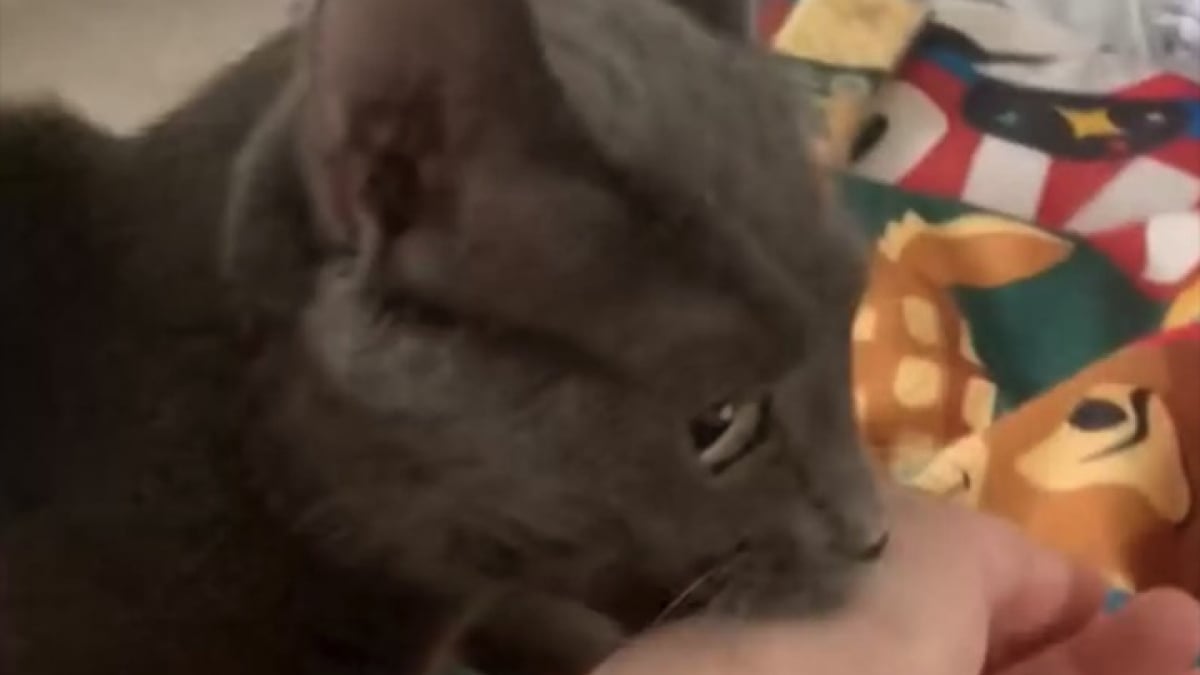 Grace, a 9-month-old alley cat, was found living in a storm drain. Despite her young age, she was pregnant and desperately needed a cozy and secure place to give birth to her little ones in the best possible conditions.
The young lady was entrusted to Zoey Chiefa caring welcome volunteer.
"She was about halfway through her pregnancy when I picked her up, and she actually bit my toes and pulled my blanket off to tell me it was time for her delivery"she explained to The Dodo.
Zoey therefore arranged a comfortable basket for him in an isolated room, but Grace wanted more than anything the presence of his benefactress.
@vettechtalkwithzoey

#question from @letstiktalkdisney Lets get some name ideas going for Gracie's kittens! What would you name your kitten? #question #answer #straycat #greycat #MickeyFriendsStayTrue #fyp #WeStickTogether

? Chill Vibes – Tollan Kim
A happy news
Some time later, Grace gave birth to 8 adorable kittens, 4 males and 4 females in perfect health. If the young mother takes wonderful care of her offspring, she nevertheless still demands the affection of Zoey.
Thus, in the morning, when she has decreed that her new mistress has slept enough, she goes to her bed, takes her hand in her mouth and takes her to the room where her little ones are.
"It's the cutest thing ever. She meows or nibbles at me to follow her. She likes me to sit next to her and caress her while she is breastfeeding"told Zoey.
@vettechtalkwithzoey

Hi! Im Gracie..?? Follow me! *insert finding dory sound here* #OLAFLEX #DoritosDareToBeBurned #greycat #greycatsoftiktok #pregnantcat #newbornkittens #kittens #pets #strayanimal #pregnancyupdate #fyp #update

? Stuck In The Middle – Tai Verdes
Grace is grateful to no longer have to live in nature. When her kittens grow up, they will leave for new adventures in loving homes.
The mother will be sterilized, but will remain with her adoptive mother forever.
"She is honestly the perfect cat, and I couldn't be more indebted to her, as she brings me so much comfort. I really think our paths crossed for a reason."has explained Zoey.
Read also: Sole survivor of the litter, a premature kitten overcomes all the difficulties with a remarkable will and the help of his foster family
@vettechtalkwithzoey

Replying to @camobrat here you go! Kitten mews for days ???? #ReTokforNature #cat #catsoftiktok #kitty #kitten #kittens #kittensoftiktok #newbornkittens #kittenlitter #litterofkittens #greycatsoftiktok #greycat #graciethegreystray #meow

? original sound – Zoeybelle

By Charlotte Jourdain
Web editor
.