Jon Snow has the chance to accompany his mistress to her workplace and this makes him extremely happy. To thank her, he brings her a new gift every day, which he fetches from the warehouse.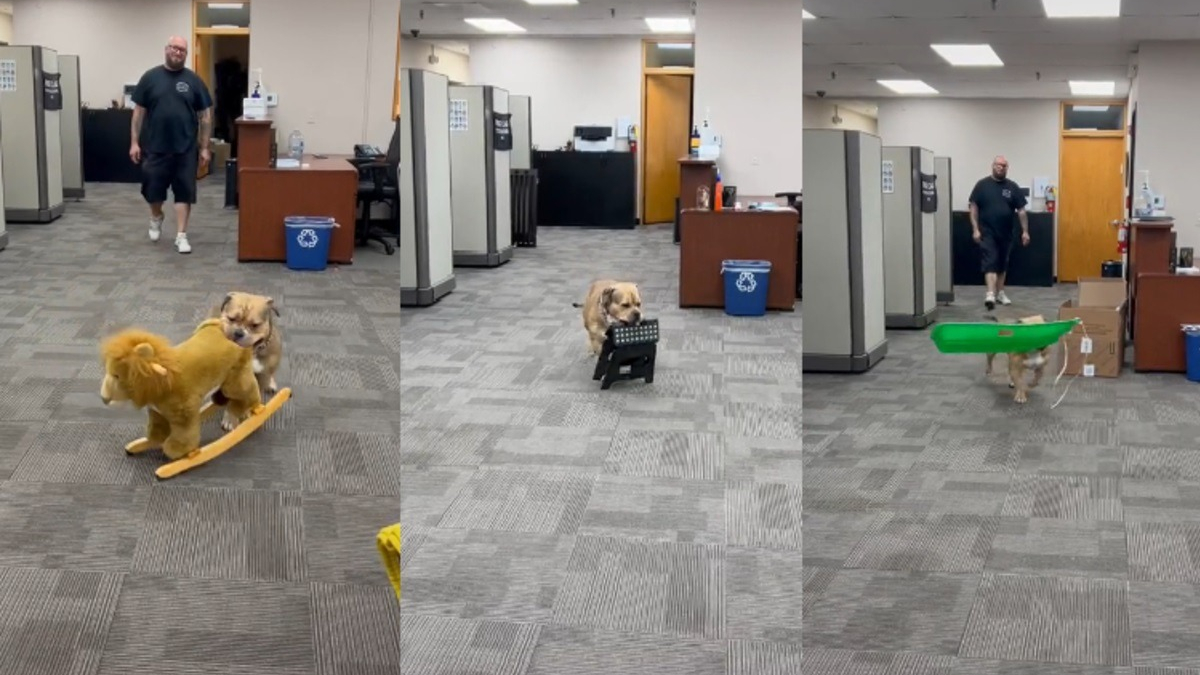 A dog offers daily gifts, each more surprising than the other, to his owner whom he accompanies to work. A story that is both amusing and touching, reported by The Dodo.
Jon Snow is an American Bully (cross American Staffordshire Terrier or Pitbull / English or American Bulldog) whose name, you will have noted it if you know the series, was chosen in reference to a key character of Game Of Thrones. He lives with his mistress, Heidy Lopezin the State of Illinois.
The young woman and her dog are inseparable. The latter has even accompanied him to his workplace since February 2021. Jon Snow loves it, and his mistress's colleagues are always happy to find him in the morning.

Heidy Lopez
The premises of the moving company that employs Heidy Lopez no longer holds any secrets for the canine. He explored every nook and cranny, starting with the warehouse. This is where staff drop off items forgotten or left behind by customers when they move house.
For Jon Snow, this storage space is a real treasure trove in which he draws to offer gifts to his "mom". It has become a habit at the American Bully for a few months.
Every day, the quadruped hastens to enter the warehouse and carefully selects the present which, in its eyes, will please Heidy Lopez. All under the supervision of Frankcolleague of the latter, and who does not hesitate to help the animal in its daily quest.
@heidzbullymom

Jon collecting treasures again???? #americanbully #jonsnow #thief #legendaryjon #fcbk #findyourgrace #funny #dewalt #hardworker

? original sound – heidz
"He is incredibly proud of his treasures"
Jon Snow thus brought to its owner all sorts of objects, some of which were totally improbable. This ranges from the garden hose to the rocking horse, through a stepladder, a basketball hoop or even a cooler. Heidy Lopez was even entitled to an orthopedic boot, his gift " weirdest and most hilarious ", she confides to The Dodo.
@heidzbullymom

I took his crate away and Jon got upset! #americanbully #jonsnow #dogburglar #herecomesjon #legendaryjon #dogmom

? original sound – heidz
" He is incredibly proud of his treasuresadds his mistress. He appreciates every thing he brings. This is so cute ".
Read also: The immense pride of a Pitbull dad when he meets his 8 puppies for the first time (video)
@heidzbullymom

From the banging, I knew it was on the larger side????#americanbully #pocket #herecomesjon #thief #jonsnow #legendaryjon #dogsoftiktok #MickeyFriendsStayTrue

? original sound – heidz
Once the reward is presented to his human by Jon Snow, Frank takes care of bringing it discreetly back to its place in the warehouse. This way, if the owner of the object wishes to recover it, he is sure to find it.

By Alexander God
Chief Editor
.